Kansas City Royals: Kris Bubic was outstanding in August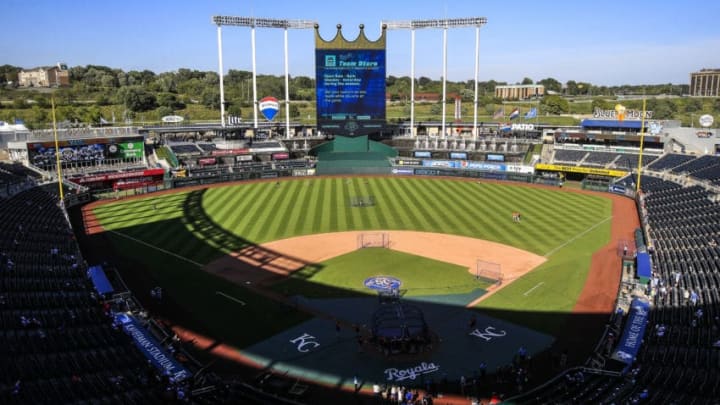 (Photo by Brian Davidson/Getty Images) /
Drafted in the first round of the 2018 MLB Draft by the Kansas City Royals, Kris Bubic was outstanding in the month of August.
The last of the "fab-five" pitchers taken in the first five picks of the 2018 Major League Baseball Amateur Draft by the Kansas City Royals, Kris Bubic has been nothing short of incredible since starting his professional career. The former Stanford product began this season at Single-A Lexington and made 9 starts there.
In those starts, Bubic tossed 47.2 innings with 75 strikeouts to just 15 walks and a 2.08 ERA. He was promoted to High-A Wilmington at the end of May and it's been more of the same for Bubic.  He's made 16 starts for Wilmington and threw 95.2 innings to go along with 107 strikeouts compared to 24 walks. His command has been outstanding and had a 2.45 ERA to boot.
He was recently named Baseball America's Royals Minor League Player of the Year. It was difficult to name anyone else especially after the month of August he had. In 5 starts this month, Bubic tossed 34.0 innings with 38 strikeouts and walked just 5, all to the tune of a 1.85 ERA.
Had Bubic had enough starts to qualify, his 2.45 ERA in Wilmington would have been second best in the Carolina League. He could very find himself starting next season at Double-A NW Arkansas and Dayton Moore was on 610 Sports Radio Friday morning discussing potential the sale of the team, potential September call ups, and the starting pitching in the lower levels.
Moore stated that he's not going to slow anyone down if they show they are ready to keep progressing, which is encouraging. I get there is the concern of starting the contract time earlier than expected but let these kids come up and play. They, at least, might be able to give the offense a chance to win a game.