Kansas City Royals: Team Predictions for the 2019 Season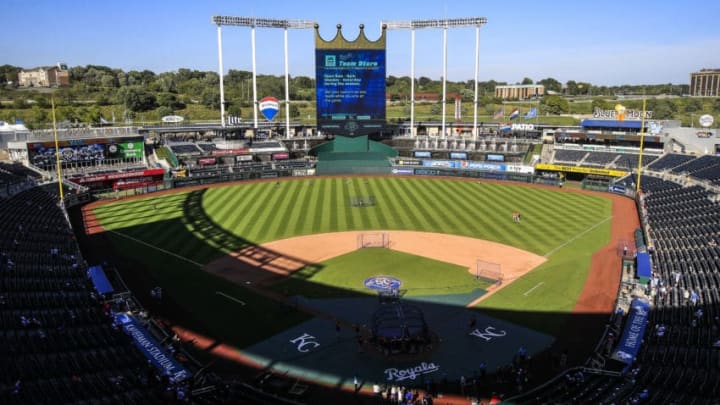 (Photo by Brian Davidson/Getty Images) /
Today, the Kansas City Royals begin a new season. Let's hope it brings lots of good surprises and memories.
Boy do we deserve a better year than last!  We watched some of the worst baseball in the history of the Kansas City Royals franchise. We also saw some pretty good play by the end of the year. It just took four months to get there. By then, the season was over. In the long run, it may have helped the development of several players who got their chance to play in the big leagues.
Some have said they waited too late in the season to bring many of them up. However, Dayton Moore's hands were tied at that point. He invested in several players he hoped would bring back some decent talent. Some succeeded, some didn't. Some we are just going to have to see. He was able to unload some contracts and free up money.
The predictions I have seen are mostly negative. Wins in the 60's or low 70's. The Royals have a young inexperienced group of players who have yet to prove themselves. The core group from the glory years are gone, hurt or in their declining years. On paper, this looks like it could be a disaster. This is the Royals though. Pepper in a few veterans and we are ready to go. Take it or leave it, this is the team we get.
I expect a much better season than most others seem to believe. What some see as a negative, I see as a positive. I like the fact we have so many new players fighting for a place on the team. Every player is playing for his future. No one is guaranteed a position. This is their chance to prove they belong and have a place for the future. The Royals have long term control on most of these players if they work out. Time to make it hard for Moore to let you go.
Now for the predictions, starting with the offense!
Offense Predictions
The Royals offense should be much improved. They spent a good portion of spring training working on batting skills. With a big emphasis on making contact, situational hitting and not swinging at breaking pitches out of the strike zone. I seemed to pay off this spring. We lead the major in average at .292. They are third in walks with 132, third in hits with 212, and third in runs with 212.
Last year the Royals were 25th in the majors with 638 runs scored. It would have been far worse if not for the appearance of all the new players at the end of the year.
With Whit Merrifield and Adalberto Mondesi at the top of the order, we should score a lot more runs early in games. Jorge Soler led the team with 5 homers and a slash line of .281/.359/.614 this spring. He along with many starters the Royals will be depending on, look ready for the season to start. I predict the Royals will score somewhere near 690 runs. This should be a fun offense to watch!
Pitching Predictions
The Royals start with a mostly new group of players from those they started with last year. If Danny Duffy stays healthy he will lead a group of young arms out to prove themselves. Brad Keller gets the call for opening day. I expect him to do fairly well. He needs to get through the league again without too much damage. Once the league gets a book on you, it gets a little bit harder.
Jacob Junis went through that last year. He made some adjustments and looks to have a good year. He may end up being the most successful of the starters by the time the year ends. If Jorge Lopez stays consistent, he could be in contention for that honor too. He gets lots of action on his pitches, even on his fastballs.
Homer Bailey is a wild card. Healthy, he was one of the best pitchers in baseball. He has two no hitters to his credit. If he is finally healthy again, he could turn the fortunes of this team. Heath Fillmyer is penciled in for now, but Scott Barlow and Glenn Sparkman will be under consideration too. Compared to last year this group has a greater chance of success. The bullpen should be better too. There is enough depth at Omaha to replace anyone who is struggling or injured.
The veterans should be decent. Wily Peralta, Brian Boxberger, and Jake Diekman are good pitchers. Kevin McCarthy and Tim Hill did well last year and should be better for the experience. I personally can't wait to see what Kyle Zimmer and Chris Ellis will do. We should see Richard Lovelady, Michael Ynoa and maybe Josh Staumont before summer is out. I really think this is a much better group then we saw in 2018. I believe this group can win and keep games close.
With all that said I predict the Kansas City Royals will end up in second place in the Central Division with a 85 and 77 record. The central as a group has the potential to be better. The Cleveland Indians have a lot of questions this year too. The pitching is still there but one or two key injuries and I believe they are back in the pack. The Minnesota Twins and Chicago White Sox should be better but both still have pitching questions. The Detroit Tigers are still rebuilding.
The division is still weak. The Royals could end up with the most balanced team in the division. I really do believe the division is a crap shoot. Cleveland should win it, but they made several roster changes since last year. Michael Brantley being the biggest loss. If they falter, the division could be won with as little as 85 games.
I'm not ready to call for printing playoff tickets, but this team could surprise many if a few things fall their way. Either way it should be a much more entertaining year than last! Play Ball!