Kansas City Royals: Keep an eye on Arnaldo Hernandez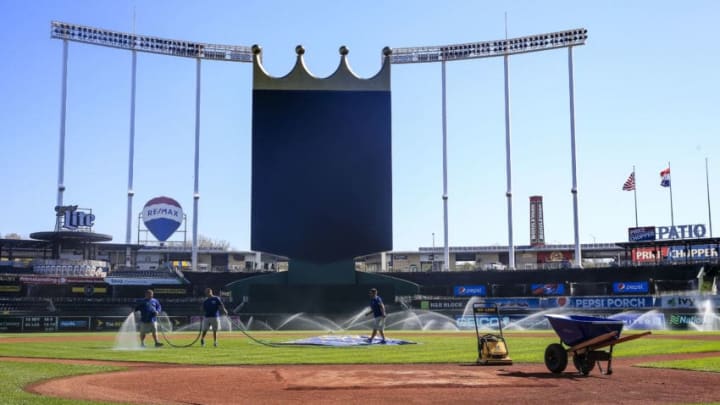 KANSAS CITY, MO - APRIL 28: The Kansas City Royals' grounds crew gets the field ready before the first game of a doubleheader against the Chicago White Sox at Kauffman Stadium on April 28, 2018 in Kansas City, Missouri. (Photo by Brian Davidson/Getty Images) /
Pitchers and catchers have reported! That means it is time for Kansas City Royals players to get to work proving themselves. One player who could surprise everyone is Arnaldo Hernandez.
In Rustin Dodd's Spring Training guide he lists three prospects to watch. The initial two seemed pretty straight forward, and I won't spoil anything. However the third was Arnaldo Hernandez and he came as a shock. Although, to no ones surprise, Dodd seems to know what he is talking about. Hernandez presents an interesting case at Kansas City Royals Spring Training.
There is still seems to be a slim chance that Hernandez will make the team. However, he is on the 40-man roster so a strong Spring could make me look dumb for that statement. The Venezuelan born pitcher has been a starter, and might be a popular spot starter or long reliever throughout the year.
The 23 year old righty saw a pretty significant jump for Hernandez, who started the year with Wilmington and ended the year with Omaha.  He made nine starts, holding Triple A hitters to a .210 batting average in 58.1 innings of work at the level.
Hernandez did enough to prove worthy on an invite to the Arizona Fall League this past season where he put up very solid numbers. He made nine relief appearances totaling 16.1 innings with a 1.10 ERA.
The one stat that did not look the greatest was his 9/8 K/BB ratio. But that was very skewed given the small innings sample. Over the 376 innings he has thrown in the minors, Hernandez boasts a K/BB ratio of 330/89.
Even though Hernandez has been  starter throughout the minors, he would likely fall into a relief role with the Kansas City Royals. Or at least he should. There is an opening for fifth starter, but there are plenty of arms with experience vying for it. Either way, making the roster will be an uphill battle.
One of the arguments that might turn people away from Hernandez sliding into the bullpen is the fact he posted a 5.5 K/9 at the Triple A level. That is a fair argument. However, his splits show a hefty increase in strikeouts as a reliever over his career. Like, more than a strikeout an inning. That is a big change, and yes strikeout numbers go up for anyone in relief because they can go max effort. But to go from 5.5 K/9 to over nine K/9 is a very significant change.
I would predict that Hernandez starts with Omaha in 2019. With him already on the 40-man, it would make sense for him to be called up and down throughout the year. He could be a popular spot starting option.
It is an exciting time in the baseball world. Players like Hernandez earn their way on to teams all the time, so there is no reason he cannot start the year as a Kansas City Royals pitcher. Either way, he is one to keep an eye on.