Kansas City Royals: Brett Phillips should be in the Opening Day lineup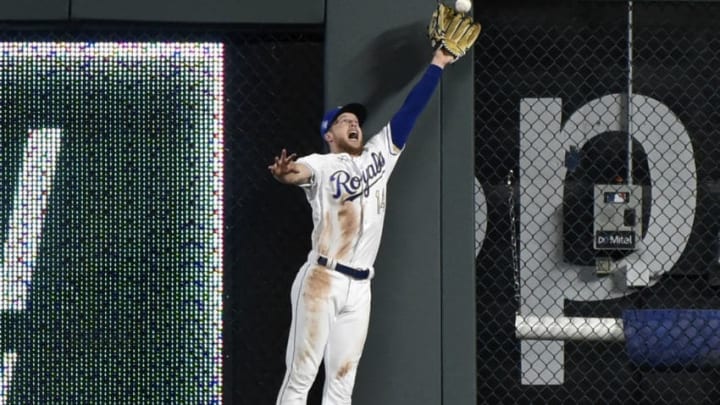 KC Royals, Brett Phillips (Photo by Ed Zurga/Getty Images) /
The title says it all. Brett Phillips should be in the  Kansas City Royals Opening Day lineup.
There will be competition for that right field spot when it comes time for Kansas City Royals manager Ned Yost to fill out 2019's inaugural lineup card. If the team is going to hope speed and defense will lead them to the promise land…or to more than 58 wins…then Brett Phillips is the answer.
In one of his fantastic inboxes Jeffrey Flanagan has Phillips hitting eighth. Kings of Kauffman tasked our Twitter followers with creating their starting lineup. Some included Bryce Harper. Dreams are fun. But what is amazing is that not many included Phillips.
Offensive Woes
His absence from lineup guesses makes sense given his value of -8.1 offensive runs above average and 49 wRC+. With his inconsistent time with both the Brewers and the Royals he struggled at the plate.
When Phillips broke on to the scene in 2017 his numbers were a lot better. In 14 less games he was worth 2.3 runs above average with a 105 wRC+. That paints a little bit of a different picture of what he can provide with the bat.
The one offensive number that remained consistent was his strikeout rate. Even in his best offensive season he was striking out at a clip over 30 percent. Last season that number was above 40.
Here's the thing, Phillips hasn't played more than 51 games at the MLB level in a season. I think his offense will come around and he will be fine. All he needs is consistent playing time.
Defensive Value
There is no secret that Phillips is a defensive superstar. After an insane throw in 2017 he was given an 80 grade arm by MLB Pipeline. He has an absolute cannon.
Even with a poor showing with the bat, he was worth 12 defensive runs saved in the outfield with an 8.6 UZR. Standing next to Billy Hamilton in the grass at Kauffman Stadium, there is a lot of potential defense waiting to happen.
The Opening Day Lineup
To be in the lineup for game one, Phillips needs to be on the 25-man roster. In order to do that he needs to beat out Jorge Bonifacio. Those two each have an option left, so one of them will end up in Omaha.
If the mantra is going to be speed and defense, Phillips cannot be in Omaha. Although it is not crazy to think he will need a good Spring Training in order to win the spot. The Kansas City Royals would certainly be better off with him starting on Opening Day.