Kansas City Royals: How things have changed in just three year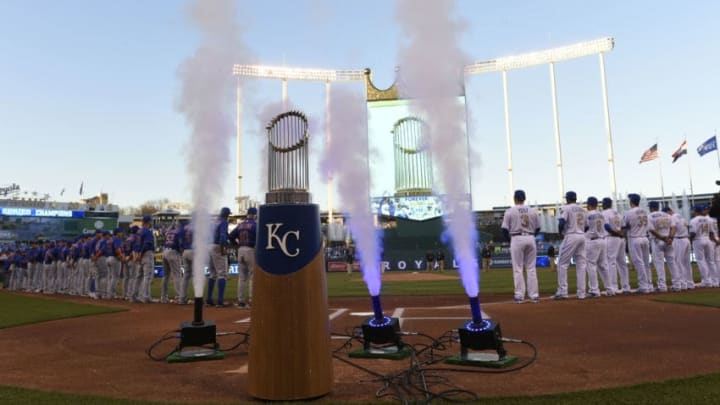 (Photo by Ed Zurga/Getty Images) /
A lot can change in sports over a short period of time for a small market team. The Kansas City Royals are the latest to feel the unfortunate side effects of this reality.
As the 2018 season is coming to an end, looking at the lineup the Kansas City Royals are using every night is a sign of the future. However, when you look at this team, it doesn't seem all that long ago that we were celebrating the Royals success during the regular season as they were running away with the American League Central and having the best record in the American League.
In fact, after three short years, the Royals lineup is merely a shell of itself. In fact, 80% of the Royals 25-man roster that won the World Series against the New York Mets is somewhere other than Kansas City. 2019 is going to be an even larger percentage, too.
So how different is the lineup?
Here is the 25-man roster the Royals used during the World Series and where they are now.
Catcher:
Infield:
Outfield:
Pitching:
What to take away from this
The Royals are a victim of their own product. Being a small market team makes consistent competitive play difficult. Unlike teams in a different market/financial circumstance, the Royals ability to keep their own players once they become a free agent is extremely difficult. Which means we should take one thing away from all of this.
Enjoy the successful Royals teams while you can and when they happen. They don't always have teams that are competitive and when they do the likelihood of them staying around or the Royals being able to "keep the band together" isn't very likely.
The hard thing about the Royals situation is they have to continuously build through the draft. Which is not as easy as other sports would be. The Royals also have to be a team that takes fliers on older veterans and hope they have some production of value.
Until funds increase, this is just the life of the Royals. They've made it work once already, it's just a matter of replicating that framework again.
With the projection of the new wave coming up in 2020/2021, the Royals have a chance of being competitive again. This time in a much shorter frame than the last. Therefore, enjoy the players while they are in Kansas City. The really good players may be the outlier like Gordon, Duffy, and Perez, but could most likely be like Hosmer and Cain.