Kansas City Royals: The Top 5 Pitchers in Royals History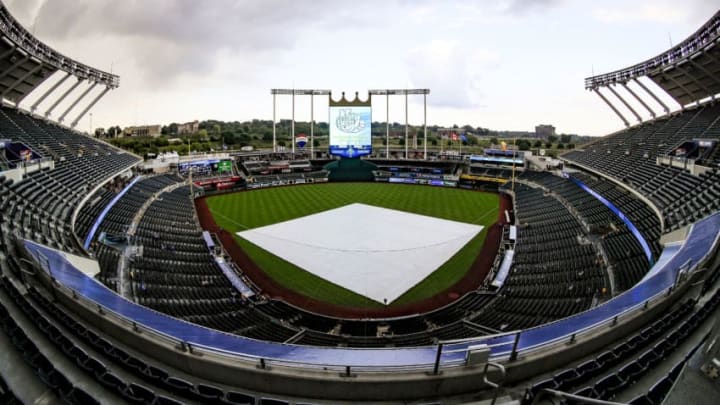 KANSAS CITY, MO - AUGUST 15: A general view of Kauffman Stadium before the game between the Toronto Blue Jays and the Kansas City Royals on August 15, 2018 in Kansas City, Missouri. (Photo by Brian Davidson/Getty Images) /
1989: Bret Saberhagen of the Kansas City Royals winds back to pitch during a MLB game in the 1989 season. (Photo by: Rick Stewart/Getty Images) /
1. Bret Saberhagen
Taking the top spot, making him the greatest pitcher in Kansas City Royals history, is Bret Saberhagen.
Bret Saberhagen was drafted by the Kansas City Royals in the 19th round of the 1982 MLB Draft, and I'm sure that makes teams cringe at the thought of passing on him. Saberhagen is widely considered the Royals most dominating starting pitcher of all time, and his accolades do the talking.
Bret won his first Cy Young in just his second season with the Royals in 1985, finishing the regular season with a 20-6 record and a 2.87 ERA, the same year he won the World Series MVP for his dismantling of the St. Louis Cardinals. He later won his second Cy Young award in 1989, with an incredible 23-6 record and a 2.16 ERA.  He was on pace for a third in 1987, but he started to struggle and injured his shoulder later in the season. What was odd about Saberhagen's time as a Royal was his odd year dominance and even year struggles. In odd years, he racked up a 74-30 record with a 2.85 ERA, but in even years he was 36-48 with a 3.70 ERA
Saberhagen was a three time All-Star, two of which were with the Royals, and he also led the league in wins and the AL in ERA (2.16) in the 1989 season. He also threw a no-hitter against the Chicago White Sox on August 26, 1991. Saberhagen's no-hitter is also the most recent one in franchise history.
Bret's dominance with the Royals is one of the biggest, if not the biggest, reasons for the first title in Royals history, and he will forever be remembered for his contributions for this franchise. He was inducted into the Royals Hall of Fame in 2005.
Rankings in Royals Top 10 Career Pitching Leaders:
1st: WHIP
2nd: WAR for Pitchers, BB/9, K/9
4th: ERA, Strikeouts
5th: W/L%, H/9, Games Started
6th: Wins, Innings Pitched, Batters Faced