Kansas City Royals: Heath Fillmyer earns first MLB win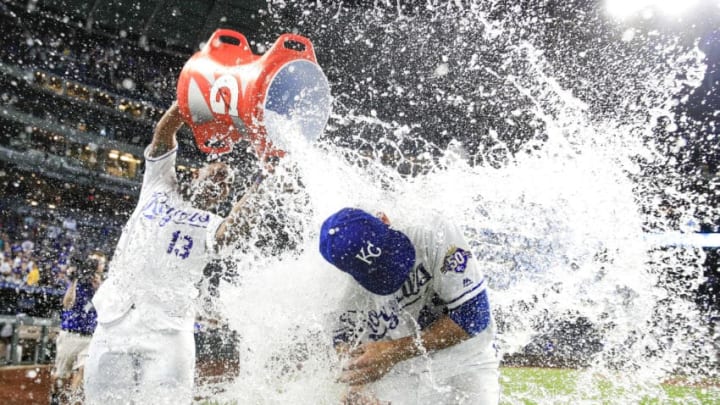 KANSAS CITY, MO - AUGUST 8: Salvador Perez #13 dumps water onto Heath Fillmyer #49 of the Kansas City Royals after the Royals defeated the Chicago Cubs 9-0 at Kauffman Stadium on August 8, 2018 in Kansas City, Missouri. (Photo by Brian Davidson/Getty Images) /
Kansas City Royals pitcher Heath Fillmyer earned his first Major League win Wednesday night against the Chicago Cubs. He had to prove he deserved a spot in the starting rotation, and he has been impressive so far.
In Wednesday night's game against the Chicago Cubs, the Kansas City Royals played well, to say the least. And Heath Fillmyer allowed just three singles in seven innings of work.
Offensive Spark
When the offense is firing on all cylinders, it makes the pitcher's job a little easier. The Kansas City Royals struck in the second inning, with Hunter Dozier and Jorge Bonifacio scoring on a double by Drew Butera.
Though they didn't score again until the seventh, Adalberto Mondesi opened up the game with a three-run home run, scoring both Brett Phillips and Bonifacio again.
Scoring nine total runs definitely helped Fillmyer's cause, and against one of the hotter teams in baseball, it means a lot. Unfortunately, it doesn't do much to bolster the Kansas City Royals poor record on the season. But, a win is a win.
Fillmyer's Season
Heath Fillmyer's Major League career record currently sits at 1-1. He has started 5 games, making for 37.1 innings of work. Teams have yielded 31 hits off of Fillmyer, and his ERA is a solid 3.13, which isn't terrible.
His walk rate is a little high, with a BB/9 rate of 4.10. And he doesn't really strike out a lot of guys, averaging 5.06 strikeouts per nine innings. But, the rookie is putting together a good season so far. He has a lot of potential, and he has come a long way since his call up in June.
It's likely Heath Fillmyer will be sticking around in the big leagues for a while. He's playing well, and his first win should provide some extra motivation for the young hurler. He even received a "Salvy Splash" from Salvador Perez after the game.
Heath Fillmyer has a lot of potential, and the experience he receives this season with the Kansas City Royals will only help to further his development.