Kansas City Royals: Is the departure of Ned Yost inevitable?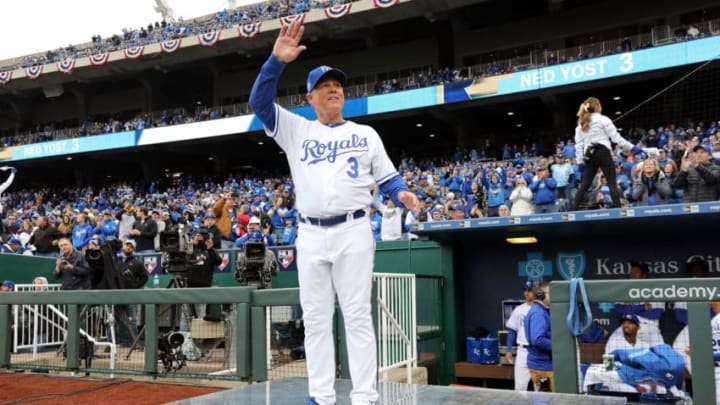 KANSAS CITY, MO - MARCH 29: Manager Ned Yost #3 of the Kansas City Royals waves during introductions prior to the game between the Chicago White Sox and the Kansas City Royals on Opening Day at Kauffman Stadium on March 29, 2018 in Kansas City, Missouri. (Photo by Jamie Squire/Getty Images) /
With the Kansas City Royals less than ideal 2018 season winding down, all eyes are on Dayton Moore and the front office as they decide the future of the team: starting with the Royals Skipper.
This season hasn't been pretty for our boys in blue. Sitting dead last in the AL Central and tied for the worst record in baseball with Baltimore, the overall feeling conveys the impression that a change is on its way. Ned Yost, the Eureka, California native, has been the manager for eight emotional seasons and is only the second manager in Kansas City Royals history to cement a World Series title since Dick Howser in 1985.
Many around the league scoffed at the idea of Ned leading the team to their first playoff appearance in 29 years back in 2014 and the World Series in 2015 due to his questionable small ball tactics, but he silenced all of the doubters. Ever since their successful runs in 2014 and 2015, however, Kansas City hasn't had much to celebrate.
Missing the playoffs in 2016 and 2017 closed the playoff window for the time being and also cost the Royals key players such as Lorenzo Cain, Eric Hosmer, Jason Vargas, and Peter Moylan, in free agency, among others. With the recent trades of Mike Moustakas and Kelvin Herrera, the once magical team thought of unlikely success ceases to exist.
With this in mind, Yost has had to tinker around with the lineup as best he can. Some may say you can't really blame him for the lack of success this season, while others questioned some of his decisions, mostly his head-scratching lineups that haven't been properly readying our future players for their MLB career (Escobar over Mondesi and Merrifield in the OF comes to mind)
The Kansas City Royals this season are 45 games under .500 and 28.5 games behind the Indians for first place. I don't quite think the odds of a comeback this season are in our favor. Certainly, Moore and company are going to have to address the elephant in the room when the season ends: further progress with the future of the Royals and have a new manager guide the rebuild, or delay the inevitable.
What do you think: does Ned Yost stay or does he go? Who would you like to see as a potential replacement? Feel free to comment your ideas!