Kansas City Royals: Trades that could happen, but should they?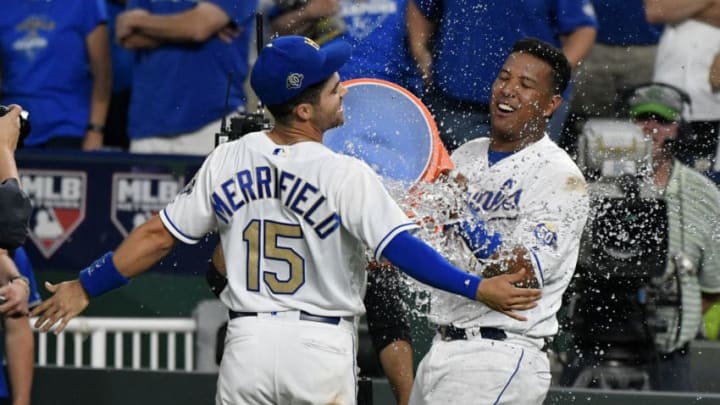 KANSAS CITY, MO - MAY 18: Whit Merrifield #15 of the Kansas City Royals is doused with water by Salvador Perez #13 as they celebrate a 5-2 won over the New York Yankees Kauffman Stadium on May 18, 2018 in Kansas City, Missouri. (Photo by Ed Zurga/Getty Images) /
The Kansas City Royals are selling at the deadline. Hopefully, that isn't breaking news for you. While they have players we all knew would be traded, they also have some that might not be traded that probably should be, at some point.
So far this year, the Kansas City Royals have traded outfielder Jon Jay and closer Kelvin Herrera. In our minds, we all knew they would be traded. How early they were traded is another conversation though.
Now we are setting our eyes on catcher Salvador Perez, super utility player Whit Merrifield, starter Danny Duffy, and third baseman Mike Moustakas. All of these names have come up in trade talks at least once this year. However, just because the Royals are selling doesn't mean everyone will be traded.
Dan Szymborski of fangraphs.com wrote an article about players that should be traded but probably won't be. According to him, Perez and Merrifield are the two players the Royals have that should be traded but probably won't.
We all know they could, but the question is whether they should.
In my mind, only one player is 100% going to be traded. Moustakas is going to finish the year in a different uniform, and we all need to be okay with that. Although he stumbled into the deadline, he is the second most sought out third basemen in baseball. Once Manny Machado is traded after the All-Star Game, Moustakas will be traded shortly after.
As for Perez and Merrifield, that raised my eyebrows. After getting a lot of publicity of "teams are interested and asking about Merrifield", reports of the Royals having too high of an asking price are starting to make their way to the surface.
It surprises me that the asking price would be "too high" considering the number of years the team would control Merrifield, as well as his production level. a player hitting .307/.378/.434 with an OPS+ of 124, and still having four years of team control left should bring in a huge haul. Which, this might be how the game is changing. Perhaps "big hauls" are no longer apart of the game like they used to be.
As for Perez, I can't see a reason to trade him this year. Having the worst statistically year of his career doesn't equal a trade, in my opinion. Granted, Perez has potentially started turning his season around, hitting .271/.288/.438 in July, I still don't think it's worth a trade.
Is that a bad thing though?
At first thought, yes that is a bad thing that they won't be traded. The quick reaction of "we are rebuilding and need future players" comes to mind first. We have kind of trained our brains to react that way this year because we all know the rebuild is real and happening.
After further consideration though, no it's not a bad thing. I know Merrifield could bring a big haul back that could help the Royals future rebuild. But as reports say, the asking price is "too high" for Merrifield. Well, with free agency, July trades, and Winter Meeting trades all seeming to change, how do we know the return would be worth it?
Maybe the old ways of baseball are no more and owners and General Managers have started holding onto their prized possessions, rather than trading them away. Now, superstars in baseball might be able to bring something similar in returns, but I don't think it will be the same.
In my mind, trading Merrifield or Perez for the type of returns that seem to be happening in baseball now isn't worth it. Holding onto those players to help the young players know how to conduct themselves as professionals while showing what success looks like, is way more important than a lackluster trade of players "just because".
Final Thoughts
Trading Merrifield and Perez is completely different than trading Herrera, Jay, and Moustakas. One group will be gone at the end of the year while another is locked up for multiple years. Therefore, the trading of Moustakas, Herrera, Jay, and probably even Lucas Duda has to happen this year. Trading players like Merrifield, Perez, and Duffy doesn't have to happen this year.
I'm not saying they shouldn't be traded. I wouldn't like the trades, but I would understand the trade. I think for me though, I need to see what trades look like now in this new era of baseball. If the trade deadline is anything like free agency and Winter Meetings, maybe trading them isn't the best thing for the Royals.
Next: Is Salvador Perez on pace for the Hall of Fame?
However, if trading players with control can bring back solid returns, then the Royals really need to consider the trades. I am okay with keeping Merrifield, Perez, and Duffy this year, shopping them at the Winter Meetings or next deadline, and seeing what happens. My only fear is settling because "they should be traded".
So what do you think Royals fans? Are you okay with the Royals not trading Merrifield and Perez this year? Should the Royals wait and see what the deadline actually looks like now? Is baseball changing? Let us know below!