Kansas City Royals: A scout's remark about the Royals situation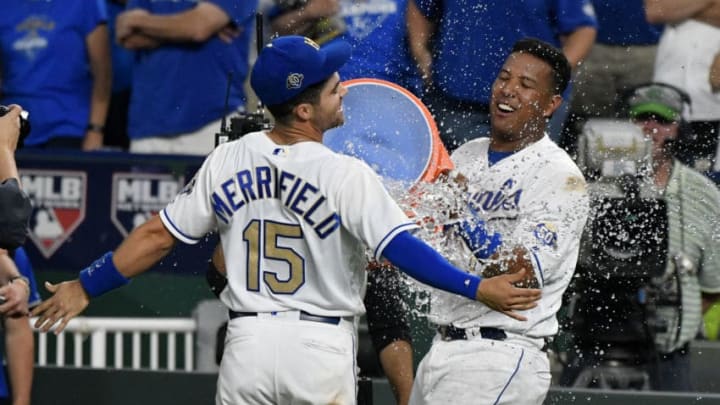 KANSAS CITY, MO - MAY 18: Whit Merrifield #15 of the Kansas City Royals is doused with water by Salvador Perez #13 as they celebrate a 5-2 won over the New York Yankees Kauffman Stadium on May 18, 2018 in Kansas City, Missouri. (Photo by Ed Zurga/Getty Images) /
The Kansas City Royals have had a few names come up as potential trade pieces. Some on expiring contracts, others on contracts with years left. But how realistic is it for the trades we believe will happen to actually happen?
The question has come up quite a bit. Will the Kansas City Royals really sell off all players who have value? Are they serious when they say they will listen to all trade requests? Will the Royals trade controllable players to help with the rebuild? All are valid questions.
When scrolling through Twitter, Jeffrey Flanagan tweeted something I found very interesting.
Parts of this tweet aren't surprising in the least bit. Obviously, Mike Moustakas will be donning a different uniform to end the year. Logistically, strategically, and any other "-ally" you can think of, it doesn't make sense to keep Moustakas.
This scout also made the same point I have been saying all year. Moustakas, "won't get the big return. Doesn't happen anymore." Teams don't seem willing to part ways with high-end prospects, especially when it comes to a rental. Which, is a bad break for the Royals.
The other part that doesn't surprise me, but I did find interesting was the claim that a team would "bite on Lucas Duda". I think we all knew that when the Royals signed him this offseason he was signed for one reason. Trade bait.
However, he hasn't exactly lived up to the expectation I had hoped for. His meager .236/.301/.410 slash, with eight doubles and seven home runs, are less than impressive. But as a bench player, he could have value. The return would likely be less than exciting, though. But it would be something!
Then the scout hit on a topic that has been on the forefront of my mind this year.
The Royals need to figure out what they are going to be doing with Whit Merrifield and Danny Duffy. According to this scout, they believe that the Royals asking price might be so high that they will be forced to keep Merrifield and Duffy.
Which draws the question, what exactly is the asking price for the two that would be considered "too high"? With the production that Merrifield has been exhibiting since his call-up in 2016, he has proving to be an above-average player, both offensively and defensively. Duffy, while streaky, has shown the ability to be a solid rotation piece for any team. Both are on very friendly, long-term contracts as well.
So, does that mean that we have a blind sense of value for these players? While we believe they are players that have high value, is that not really the case?
Which leads me to my final point.
While Merrifield and Duffy have had a lot of talk around them as trade pieces since the offseason, I don't know anymore if they will actually get traded. Which, honestly is not the worst thing.
While trading Merrifield would bring back major pieces towards the teams rebuilding process, his versatility defensively and offensive prowess make him a tremendous piece for the Royals.
Same can be said about Duffy as well. He could bring a return that would greatly accelerate the Royals rebuild. However, Duffy's loyalty and pitching ability, albeit frustrating at times, is not easily replaced.
Then again, the scout could easily be giving his one perspective, which obviously doesn't speak for the whole league. In this one scout's mind, this is what he believes. But all it takes is one team to really, truly want either Duffy or Merrifield to get a deal done.
Hold onto your emotions for a bit longer Royals fans. We are still unsure whether or not some of our favorites will still be in Kansas City. Whatever side you are on, trading them all or keeping some, my advice for you is to expect the worst, but prepare for the best.
Next: Who are your 10 keepers?
So what do you think Royals fans? Are we overvaluing our own players? Will the Royals keep Merrifield and/or Duffy? What kind of return are you anticipating for Moustakas and Duda? Let us know below!