Kansas City Royals: Another International Signing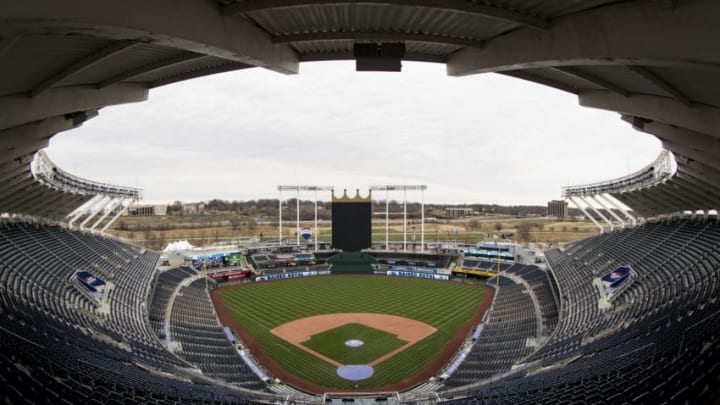 KC Royals (Photo by Brian Davidson/Getty Images) /
The Kansas City Royals inked another international player. Sixteen year old Kaito Yuki from Japan signed a minor league contract with the organization.
According to an article by ESPN, Kaito Yuki is believed to be the youngest player from Japan to ever sign with a Major League team. The Kansas City Royals also are thought to have signed the first ever junior high player from Japan to sign a contract with a big league organization.
Contract Details
Yuki signed on with a $322,500 signing bonus. At the moment, the plan is for him to arrive in August and then to work his way through the fall instructional league. He is a young player that will have to move through the minor league system before even thinking about wearing a Royals jersey.
He has not even played a lick of high school ball, and he was discovered in a youth tournament he played in with his Japanese team in the United States.
How does he look?
There have been people who have compared him to Yu Darvish. Not Darvish this season, though, as he is not faring extremely well this season.
He is 6'2″ and 170 pounds. And his fastball reportedly clocks in at 87-88 MPH. For a 16 year old, that is a great number to be at.
The Kansas City Royals are ecstatic to have the young hurler signed on. He could prove to be a vital addition to a rebuilt squad.
Former Japanese Pitchers
Yuki joins a short list of Japanese players in the organization. Nori Aoki is the only position player on the list.
There have been three pitchers from Japan who have donned Kansas City Royals uniforms in the past. Those names are Hideo Nomo, Mac Suzuki, and Yasuhiko Yabuta
Nomo pitched in a mere three games for the Royals in 2008, yielding an ERA of 18.69 in 4.1 innings of work.
Suzuki was with the Kansas City Royals for a span of four years, with an average ERA of 4.96 through a total of 333.2 innings.
Lastly, Yubuta played for the Royals in 2008 and 2009. In those two years, he had an average ERA of 7.14. He pitched a total of 51.2 innings in relief.
Next: Jason Hammel demoted to the bullpen
None of those numbers are fantastic. The hope is that Kaito Yuki will become the best Japanese pitcher the Kansas City Royals have ever had on their roster in the future.