Kansas City Royals: Royals Draft Flashback, Part 6 (1993-1997)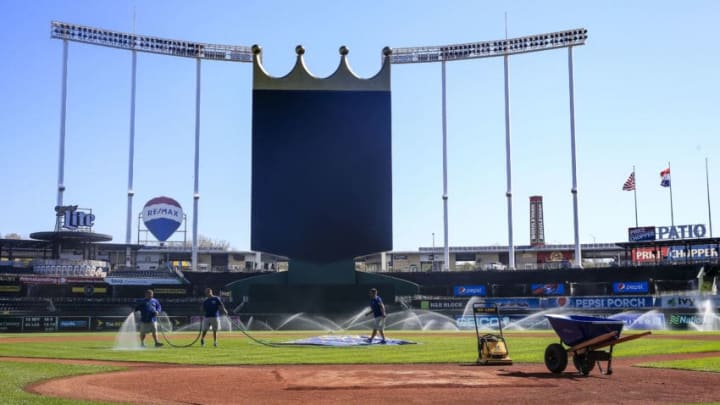 KANSAS CITY, MO - APRIL 28: The Kansas City Royals' grounds crew gets the field ready before the first game of a doubleheader against the Chicago White Sox at Kauffman Stadium on April 28, 2018 in Kansas City, Missouri. (Photo by Brian Davidson/Getty Images) /
With their late 1970s/early 1980s glory days long past them, David Glass and Herk Robinson consolidated their power upon the franchise. The Kansas City Royals retreated into the prototype of a "small market" major league team in the mid-1990s.
Any attempts to build a competitive team without spending money on free agents was thwarted by inconsistent scouting and an inability to fill certain needs in the MLB Amateur Draft for the Kansas City Royals. 
1993
In hindsight, Jeff Granger (7th overall) wasn't a bad pick. It's obvious that the Royals rushed and mishandled him. Granger did decent in two Major League starts mere months after the draft. However, he needed more seasoning in the minors than he actually received. The next most notable pick in the Royals '93 haul was fellow southpaw Glendon Rusch in the 17th round. In between Granger and Rusch, however not a single pick made it to the majors.
1994
Matt Smith (not the 11th Doctor) was an intriguing double-threat in theory. A tall, wiry left-handed first baseman, Smith was also a superb pitcher in high school. That didn't translate to pro ball, as Smith peaked at Class A Advanced. Then regenerated into a grumpy, middle-aged Scotsman.
The rest of the Royals' 1994 haul likely rates as one of their all-time worst. Only Tim Byrdak (5th round) and Jose Santiago (70th round), both journeymen, saw substantial major league action. Jaime Bluma, a reliever chosen in the third round, was also rushed to the majors. Bluma was nondescript in multiple stints in Omaha and Wichita, to say the least of 17 games in the bigs. Additionally, the Royals selected Bluma with Scott Podsednik still on the board. (Dayton Moore later rectified that mistake… sort of.)
1995
Another year, another first round bust. Juan Lebron, a career minor league outfielder, made arguably his greatest impact when his mug accidentally appeared on Carlos Beltran's rookie card and vice versa. Beltran, the Royals' second round pick, will likely go to Cooperstown upon his first year of eligibility in 2023. Juan Lebron… played for some team called the Pennsylvania Road Warriors.
Further on down the list, woulda-coulda-shoula Royals prospect Mark Quinn landed in the 11th round. There was a weird double near-miss down in the 18th round. Pat Hallmark was a minor league jack of all trades before becoming a respected college baseball coach at Rice and Mizzou. Nine picks later, the Expos chose… the most dominant quarterback in NFL history?
1996
Dermal "Dee" Brown bounced between the majors, minors, and Japan in a strange 16-year journey that included one okay year (2000) in Royal blue. Alas, it would be too simple to label Dee a bust. There appeared to be a variety of extraneous factors that curbed his success in MLB, including possibly yet another rush job.
Compared to other Royals' drafts of that era, their other picks in 1996 spent a bit of time in The Show. At 100 rounds this was the largest MLB amateur draft to date. This draft resulted in a total of 14 Royals picks had at least a cup of tea in the bigs. Chad Durbin (3rd round, 79th overall), Jeremy Giambi (6th round, 169th overall), and Kiko Calero (27th round, 799th overall) all had careers that were slightly more substantial than Brown's. Giambi was a juicer, but still…
1997
This draft as a whole was fairly deep, with eight future All-Stars selected in the first round and a borderline Hall of Famer (Chase Utley) selected in the third. With Michael Cuddyer, Jon Garland, Lance Berkman, and Jayson Werth all waiting to be chosen, the Royals selected Dan Reichert, an RHP from the University of the Pacific. Where Reichert was not a rush job (thank goodness) he did have a Jekyll and Hyde quality. He was lights out in Triple-A, but couldn't find the strike zone in Kansas City.
The one other noteworthy player picked by KC was Jeremy Affeldt in the third round. Affeldt was miscast as a starter. However, he went on to pick up three World Series rings in the San Francisco Giants' bullpen.
Final thoughts on Kansas City Royals draft class
The dark days of the Royals are quickly coming in the coming years. Things had to get worse before they could get better…right? I'm not sure we knew how bad it was going to be though. Baseball in Kansas City took a major hit with fans during the "Dark Days".
Related Story: Bullpen showing positive signs of life
Part 7 takes us into the 21st century and the Hal Baird era. Don't say I didn't warn you.
Let us know what you think Royals fans? Did you have a favorite Royal in the draft? Did you see a major miss on their part? Let us know below!