Kansas City Royals: Thank You Eric Hosmer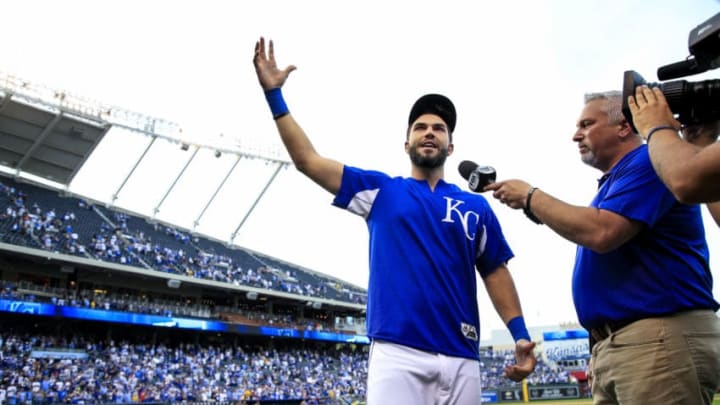 KANSAS CITY, MO - OCTOBER 01: Eric Hosmer /
The day many have been waiting for has finally arrived. Coveted free agent Eric Hosmer signed a contract. Unfortunately, it was not with the Kansas City Royals. Instead, Hosmer picked the San Diego Padres.
Late Saturday night news broke that the San Diego Padres and Eric Hosmer had reached an agreement on a contract. When news broke that he was leaving, no one was really surprised. I think, for the most part, Kansas City fans knew Hosmer was not coming back.
Now, as fans, we cannot be mad at Hosmer. I personally have been working my way through the sports grieving process. When the news broke I was sad. Then I was confused. Then when his contract details came out I was angry. Now I have moved towards acceptance.
To be clear, Hosmer never was about the money. The amount of money on his contract was never the topic of conversation once the ball started moving. It was all about the number of years. Hosmer wanted eight years, and the Padres offered it to him. The Royals, for all we know, maxed out at seven years.
I know it is hard seeing players leave. Especially ones that we as fans have attached ourselves to. However, Hosmer deserves nothing more than our praise and best wishes for everything he helped this organization accomplish during his tenure with Kansas City.
Eric Hosmer Recap
The Royals picked Hosmer 3rd overall in the 2008 draft. The expectations were high for the 18-year-old immediately and he did not hesitate one bit. Over his four years in the minors, Hosmer hit an impressive .312/.393/.494 with a .887 OPS. Thanks to this he was able to make his much anticipated MLB debut in May of 2011.
When Hosmer made his MLB debut in 2011, it was a celebration. If you recall, it was almost like the city shut down. I do not recall the last time a Royals player made his MLB debut and received a standing ovation before a pitch was even thrown.
As he continued his rise with the Royals, he went on to win a variety of awards, while being apart of great moments in Kansas City. Hosmer has won the third most Gold Gloves in franchise history (4). He helped elevate the Royals to a World Series Championship for just the second time in franchise history. He won the 2016 All-Star MVP award, which was last won by Bo Jackson in 1989. In 2017 he won his first Silver Slugger and was the first baseman for the United States squad that won the World Baseball Classic for the first time since its inception in 2006.
Throughout his time in Kansas City, he was known as the Royals leader and was the face of the franchise. Whenever the team went through rough patches, Hosmer was in front of the camera. Whenever the team was succeeding, Hosmer was in the middle of it all celebrating. He was exactly what the Royals needed at the right time.
Highlights
Hosmer has provided a lot of great moments for the Royals. Whether that be how smooth he looks at first base or his innate ability to come up big in clutch situations, Hosmer was always there.
Instead of describing his defensive picks, his clutch triple in the 12th inning in the 2012 Wild Card Game against Oakland, or his sacrifice fly in Game 1 of the World Series against the Mets (albeit after his defensive error). Or, we cannot forget about his All-Star Game homerun (first since Jackson in 1989), and arguably his most important moment in recent franchise history, the "Mad Dash" in Game 5 of the World Series against the Mets. Instead of describing them to you, enjoy re-watching them.
**Click the links to watch**
Hosmer was apart of a lot of great memories during his tenure in Kansas City. His growth and maturity throughout his 10 years are hard qualities to coach and find.
Final Thoughts
Dayton Moore has always talked about drafting players who have character, class and that special drive to win. It is safe to say that he struck gold with Eric Hosmer.
Thank you for everything you did for Kansas City, Hosmer. You were a vital part of bringing that passion for baseball back to Kansas City, while never wavered through adversity. Kansas City was lucky to have a class act like yourself apart of the team for the past 10 years!
Best of luck in San Diego. The Padres are getting a great player, leader, and person. Who knows, maybe we will see you in Royal blue again in five years.