2018 Royals Season Preview – Whit Merrifield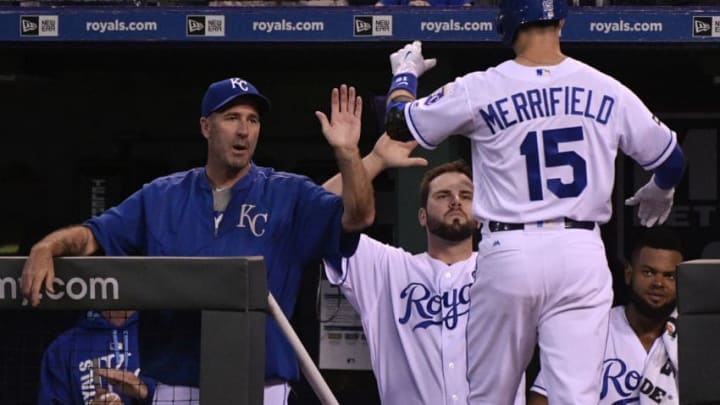 KANSAS CITY, MO - AUGUST 29: Whit Merrifield /
Whit Merrifield is no stranger to being overlooked. Making his major-league debut at the age of 27, there weren't many who expected the second-baseman/outfielder to stick around for too long. Nearly two years later, here we are. Merrifield is coming off a fantastic 2017 campaign and is an everyday player for the Royals. What does 2018 have in store for "Whit Bird?"
If you haven't read my Kings of Kauffman season preview for Hunter Dozier, I highly recommend it. Each article will have a link to a previous season preview in the first main body paragraph: just click on the player's name. Dozier is a tantalizing talent that is looking to make an impact on the MLB a bit later than originally expected. Speaking of a player establishing himself later than normal, Whit Merrifield is a prime example of that. The Royals' former ninth-round draft pick spent nearly six entire seasons in the minor-league system before making his MLB debut.
Merrifield played exactly half a season's worth of games in 2016 (81), hitting .283 with a pair of home runs and 29 RBIs. The MLB batting average was a pleasant surprise, as it sat at .266 through 69 games at AAA Omaha. Merrifield played well enough to earn an invite to 2017 Spring Training, which is where the story gets interesting.
What did he offer last season?
Merrifield did not begin the season on the major-league club. Ned Yost decided to give Raúl Mondesí the starting second base job after an excellent Spring Training (.327 BA, 3 HR). Merrifield would spend the first couple weeks of the season in AAA, where he hit a blazing .412 and added a trio of home runs in just nine games. Meanwhile, Mondesí struggled immensely. Subsequently, Merrifield was called back up to the Royals, and the rest is history.
Perhaps using his demotion as motivation to perform better, Merrifield enjoyed the best season of his career (at any level) in 2017. In 145 games, Merrifield hit .288, launched a career-high 19 balls out of the park and drove in 78 runs. To top it all off, he also led the American League in stolen bases with 34. Merrifield was also nearly as hot as the weather in July, when he had a .330 batting average and hit 12 doubles. A .281 first-half batting average and a .294 second-have average indicated Merrifield only got better as the season went on, which is true.
The only bone I have to pick with Merrifield's statistics is his walk rate. Drawing a walk in just 4.6% of his at-bats, Merrifield had one of the lowest walk rates in all of baseball. It's acceptable because he can get on base using his bat and he doesn't strike out often, but I'd like him to walk a bit more.
What can we expect in 2018?
Steamer expects a regression from Merrifield in 2018:
142 games played (down from 145)
.272 BA/.316 OBP/.409 SLG (compared to .288/.324/.460)
25 SB (down from 34)
13 HR (down from 19)
60 RBI (down from 78)
It's intriguing to see Steamer expects Merrifield to play three-fewer games in 2018, even though he won't spend the first two or three weeks of the season in the minors. I'll take the over on 142 games played. The only projections I agree with are home runs and RBIs. Before last year, Merrifield had never hit more than 10 combined home runs in a season (hit eight in AAA and two with the Royals in 2016). Although I don't think his 19-home run season will be replicated, I still fully expect him to hit double-digit bombs in 2018. 15 sounds about right. I'll take just a couple over 13.
Because Merrifield may very well be leading off this season, 60 RBIs seems about right. The bottom of the batting order may limit his RBIs. Considering I expect the power numbers to decrease, I think they'll be traded for an even more well-rounded bat. I'm taking the over on the entire slash line of .272/.316/409. What Merrifield loses in home runs and RBIs, he'll make up for in singles and doubles. As a result of becoming a more mature player, I can see the walk rate increasing as well. Since he'll be on base plenty, I fully anticipate Merrifield's stolen base total will be above 25. In all, Merrifield should be very productive again in 2018.
The verdict
Whit Merrifield is one of my favorite Royals. He has a knack for getting on base and swiping bags once he's on. The power was a pleasant surprise but if history repeats itself, the home runs won't be as frequent in 2018. Merrifield is a player any team would be happy to have. He's great in the clubhouse, he's a hard worker and he's good at everything. He's fast, has a good glove, can play multiple positions, hits for a good average and has decent pop. What else could you ask for? One of the better second basemen from 2017 should contribute more of the same this season.
What do you think, Royals fans? Was Whit Merrifield's 2017 season a flash in the pan? Is he going to progress even more in 2018? Let us know what you have to say!