Kansas City Royals: Outfielder Tyler Collins Signs Minor League Deal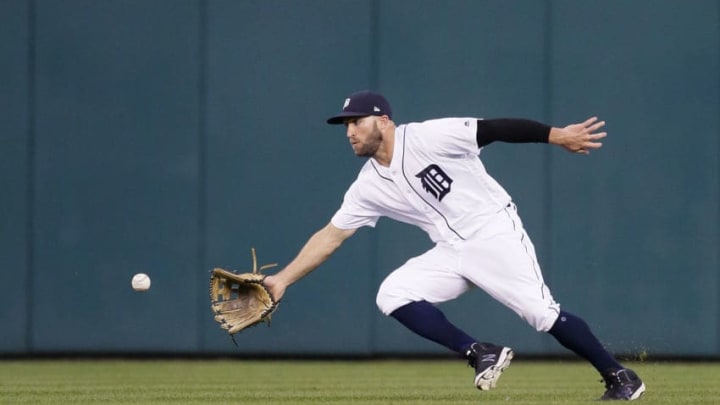 DETROIT, MI - SEPTEMBER 15: Center fielder Tyler Collins /
The Kansas City Royals made a surprising off-season acquisition. While trying to give the team as many options as possible to fill the outfield, Royals sign a potential character-issue player, Tyler Collins.
In an attempt to keep costs low, while providing as many options as possible, the Royals bring in a surprising player. Ex-Detroit Tiger Tyler Collins has an interesting story with his previous team. Regardless of how he ended things in Detroit, let's try and give him a fair shake by looking at the numbers.
But first. If you do not know who Collins is, which is totally understandable, let's take a jump into the past. His claim to fame has very little to do with his on-the-field play, but rather his on-the-field actions. Collins made headlines when he took some aggression out on the Detroit faithful by letting them know they were "number one". Only not in a positive way.
Royals beat writer, Jeffrey Flanagan, seems to have some question about the Royals addition.
But like I said, let's look at him in a different light.
By The Numbers:
Collins made his MLB debut in 2014 but has had very little big league success. While with the Tigers, Collins hit a less than impressive .235/.299/.380 over four MLB seasons and 183 games. His best season came in 2015 when he hit .266/.316/.417 over 60 games. However, he fell quickly from 2016-2017 hitting just .213 during that time.
When looking at his power, there is not much there. He has hit just 14 homeruns, 17 doubles and seven triples over 522 plate appearances. As an outfielder, the stereotype would be someone who is capable of stealing bases. Unfortunately, he has only successfully stolen three bases in 12 attempts. Neither of those statistics is much to celebrate.
Defensively, his fielding percentage while playing left field is .970, .984 in center field and .957 in right field. To put that in perspective for you, let's look at all the current Royals outfielders who are projected to make a run for a spot on the 25-man roster.
Right Field:
Left Field:
Center Field:
Orlando – .991 fielding percentage
Billy Burns – .987 fielding percentage
Collins – .984 fielding percentage
When looking at the defensive numbers, Collins does not seem to provide a higher value replacement for what the Royals already had.
Potential Rationale for Collins:
After looking more at the numbers, Collins does not seem to provide much of an upgrade for the team. However, one thing might play into Collins favor.
After spending a significant amount of time with Detroit's Triple-A team, he did finish the year with a .288/.358/.462 slash over 74 games. He also had 25 extra base hits, including nine homeruns and 14 doubles.
This is significant because when looking at his 2016 numbers at Triple-A Toledo he hit just .214/.274/.323 over 68 games. He also had just 14 extra base hits as well. He seems to have grown significantly over one year.
Final Thoughts:
When looking at this move from the surface, it does not make much sense. When digging a little deeper, it still does not make the most sense. Dayton Moore always talks about character when drafting and signing players, so the addition of someone who might have some character flaws is suspicious.
However, when looking at how he finished the year in Triple-A, I wonder if Moore has the idea that a new environment will help Collins pick where he left off in Toledo. Maybe the 27-year-old can be a great low-risk/high-reward type player and turn the corner and become a beneficial part of the Royals club.
So what do you think Royals fans? Is Collins a good addition? Can he continue where he left off in Triple-A? Or do you think questions about his character will continue and he will find himself on another team by the end of the year? Let us know your thoughts!