How Former Kansas City Royals Have Performed in 2017 Playoffs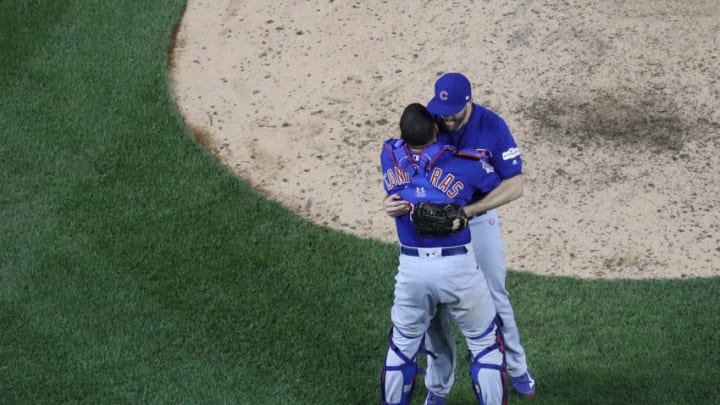 WASHINGTON, DC - OCTOBER 13: Wade Davis /
WASHINGTON, DC – OCTOBER 13: Wade Davis /
Reached League Championship Series
Carlos Beltran hasn't been with the Kansas City Royals for well over a decade. However, any fans who saw him feature in the outfield at Kauffman Stadium, particularly alongside Johnny Damon and Jermaine Dye, know he's one of the best players to suit up for the franchise.
Speaking of franchise greats, Wade Davis and Ben Zobrist teamed up to help the Royals win the 2015 World Series. Now, they're trying to win another title together for the Cubs in 2017—after Zobrist won one by himself in Chicago last year.
Here's how those three players helped their team move within touching distance of a pennant:
Carlos Beltran, Astros
The former AL Rookie of the Year has turned into one of the greatest postseason hitters of all time. However, Beltran has never been able to win a World Series—with his only appearance, thus far, coming with the St. Louis Cardinals in 2013.
He has a great chance to get back to the World Series this season. It would ironically come with the franchise the Kansas City Royals traded him to in 2004. The trade ended a great five-a-half-year run with the Royals, but Beltran deserved to play for a winner. He's gotten that opportunity several times over, having made the postseason on seven occasions with six different organizations.
This year, he has played in three of the Astros' four postseason games. He's 2 for 5 with a huge RBI-double in the ninth inning of Game 4 that helped Houston close out the ALDS.
Wade Davis and Ben Zobrist, Cubs
Zobrist and Davis left Kansas City for Chicago under extremely different circumstances. The former signed with the Cubs in the offseason after the 2015 title-winning campaign; the latter landed with the Cubbies after a straight-up trade for Jorge Soler.
While Kansas City Royals fans probably like watching Zobrist and Davis succeed, it has to hurt thinking about what could have been. What if, instead of Alex Gordon, the team had tried to re-sign Zobrist heading into 2016? What if Dayton Moore hadn't sent Davis away for an unproven hitter?
More from Kings of Kauffman
To be fair, Zobrist has regressed mightily in 2017 after winning World Series MVP honors in 2016. His versatility, though, has kept him a key member of the Cubs. He played in all five games of the NLDS, finishing 4 for 17, including a pair of doubles, with one walk and three runs scored. Zobrist's double in Game 3 broke up Max Scherzer's no-hitter, and he eventually scored the tying run.
Davis, meanwhile, had an up-and-down series. He nailed down three saves but also gave up a grand slam that helped the Nationals force Game 5. But in that winner-take-all game—on the road, no less—Davis showed his mettle.
He nailed down the final seven outs, including a flawless ninth inning, to close out a 9-8 win. His strikeout of Bryce Harper to end the game will be one of the lasting memories of this postseason.
It's just a shame he's closing out postseason games for the Chicago Cubs instead of the Kansas City Royals. Because, if Davis had stayed, that might have been the case.
Next: Best Performances from the 2017 Season
Either way, we'll keep tabs on Davis, Zobrist and Beltran to see if any former Royals will earn rings this fall.