How Former Kansas City Royals Have Performed in 2017 Playoffs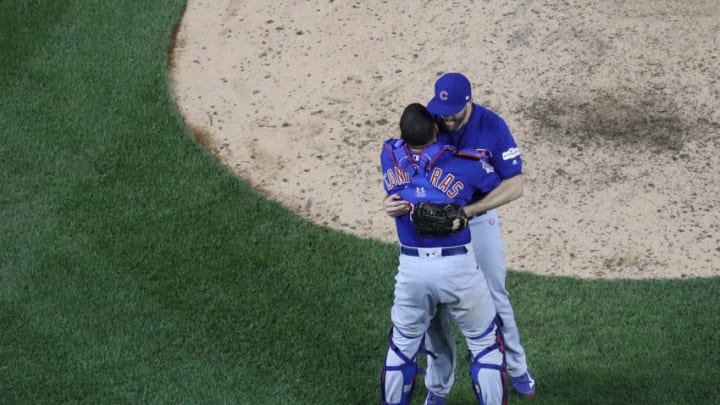 WASHINGTON, DC - OCTOBER 13: Wade Davis /
NEW YORK, NY – OCTOBER 03: Ervin Santana /
Eliminated in Wild Card Game
A former Kansas City Royals pitcher featured on the losing side in each wild card game this year. In the American League winner-take-all game, Ervin Santana started for the Minnesota Twins. On the National League side, Greg Holland made an appearance out of the Colorado Rockies bullpen.
Here's how the two pitchers, who were teammates in 2013, did in their respective elimination games:
Ervin Santana, Twins
Santana lasted just two innings against the New York Yankees. His teammates gave him a nice 3-0 lead before he took the mound. The robust top of the first inning even chased his opposite number, Luis Severino, after recording just one out.
The man who spent just one season in Kansas City, though, couldn't take advantage. He gave those three runs right back in the bottom half of the first. Brett Gardner walked, Aaron Judge singled and Didi Gregorius hit a massive three-run homer to tie the game.
Gardner homered in the second inning to give the Yankees a 4-3 lead. The Twins tied the game in the top of the third, but Santana still got replaced by Jose Berrios to begin the third inning. The Minnesota bullpen struggled in the 8-4 defeat with Berrios taking the loss.
Greg Holland, Rockies
Holland got thrust into a high-scoring game in the NL Wild Card Game and didn't fare too well. In the bottom of the eighth inning, the former Kansas City Royals closer came on with his team trailing 8-7.
Looking to keep the Rockies within striking distance, Holland struggled against a potent Diamondbacks lineup. The right-hander came on with one on and one out. He got the dangerous J.D. Martinez to ground into a fielder's choice for the second out.
However, Jake Lamb singled and A.J. Pollock tripled to bring in two runs. Arizona wasn't done, though. After an intentional walk, Jeff Mathis beached on a bunt single that extended the lead to 11-7. Holland finally got out of the inning, but the damage had already been done.
Colorado scored a run in the ninth, showing just how vital those insurance runs were.