Kansas City Royals History: 2014 Team Earns Wild Card Spot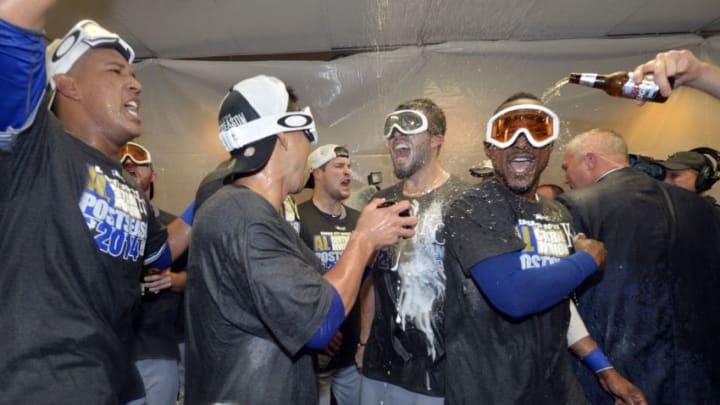 CHICAGO, IL - SEPTEMBER 26: Salvador Perez /
After winning the 1985 World Series, it had been 29 years since the Kansas City Royals had made the playoffs. Until the 2014 team secured a Wild Card bid. Here's how they did it.
(Editor's note: This is one of several on-this-date posts that KoK will publish leading into and throughout the 2017 postseason. They will highlight the postseason success of the Kansas City Royals over the years with particular emphasis given to 2014 and 2015—given the strong ties to the current squad.)
From 1985 to 2014, the Kansas City Royals suffered through the longest playoff droughts in the four major sports, according to the Kansas City Star. That all ended three years ago when the team landed a Wild Card spot on Sept. 26, 2014.
On that day, the Kansas City Royals defeated the White Sox by a 3-1 score. The win at U.S. Cellular Field guaranteed a berth in the American League Wild Card Game for the Boys in Blue. Although home-field advantage in the game was still up in the air—as was the Central Division title.
This day, though, was about celebrating a moment that had been almost 30 years in the making. There were Kansas City Royals fans in their late twenties who had never experienced so much as a playoff game. In the time since winning the 1985 World Series, two different men named George Bush had been president.
Many players on the Kansas City Royals team hadn't been alive the last time the franchise made the postseason.
How it Happened
Kansas City Royals /
Kansas City Royals
The Royals jumped out with all three of their runs in the top of the first inning. Alcides Escobar set the tone with a leadoff single against Hector Noesi. Nori Aoki followed with a triple to drive him in. Lorenzo Cain made it three hits in a row with a run-scoring single. After stealing second base, Cain came home on a Billy Butler single.
Jeremy Guthrie pitched a sensational game to help the lead hold up. He pitched seven scoreless innings with just four hits and a walk allowed. Guthrie also struck out six before handing things over to Wade Davis. Despite striking out the side, Davis allowed a run in the eighth inning on Alexei Ramirez's single. Greg Holland tossed a perfect ninth inning to start the celebration.
With two games left in the 2014 season, the Kansas City Royals sat one game behind the Tigers in the division standings and one game ahead of the Athletics in the Wild Card race. All three teams went 1-1 over the final two days of the season, sending Oakland to Kansas City for the Wild Card Game.
Next: Top Royals Outfielders of All-Time
But more on that later.