Kansas City Royals History: 2015 Team Clinches AL Central Title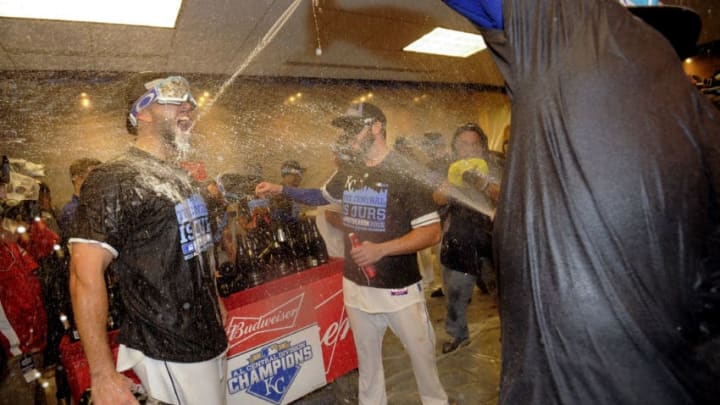 KANSAS CITY, MO - SEPTEMBER 24: Eric Hosmer /
On Sept. 24, 2015, the Kansas City Royals began marching to a World Series crown by clinching the American League Central. It also brought us a certain bear suit. Let's revisit that glorious day.
(Editor's note: This is the first of several on-this-date posts that KoK will publish leading into and throughout the 2017 postseason. They will highlight the postseason success of the Kansas City Royals over the years with particular emphasis given to 2014 and 2015—given the strong ties to the current squad.)
It's been two years since the Kansas City Royals clinched their first and—to date—only American League Central title. It also happened to be the club's first division title since 1985. That triumph came in the old AL West back when there were just two divisions per league.
According to an article from MLB.com at the time, the team became the first in the big leagues in 2015 to clinch a division title. That day the team celebrated a 10-4 victory over the Mariners with champagne in the locker room.
With 10 games left in the season, the Kansas City Royals had the division crown in the bag. However, the team had a lot to keep playing for. According to the MLB.com article, the win put the Kansas City Royals two games ahead of Toronto for home-field advantage—something the team took full advantage of in the postseason.
How it Happened
It was deadline acquisition Johnny Cueto who took the win in the clincher. The current San Francisco Giant allowed three runs over seven innings. Ryan Madson, now with the Washington Nationals, tossed a scoreless ninth. Now-Chicago Cubs closer Wade Davis allowed a run in the ninth but finished things off.
Offensively, Eric Hosmer and Mike Moustakas each had a home run and a double. Ben Zobrist, also a Cubbie now, had a pair of doubles. Lorenzo Cain broke a 3-3 tie in the sixth inning with a two-run single.
This day, though, will always be remembered by Kansas City Royals fans for Danny Duffy, Joel Goldberg and a bear suit. If you watched the above video, you saw a glimpse of it. Now, we'll relive that wonderful interview together:
"A bear suit, wearing a bear suit, Joel." It doesn't get any better than that.
Next: What if Davis Hadn't Been Traded?
Two years ago, the Kansas City Royals started a journey that would end in their first World Series title in 30 years. Don't worry, we have plenty more memories from that wonderful run to bring you over the next month-plus.