Kansas City Royals: Bubba Starling's Season Over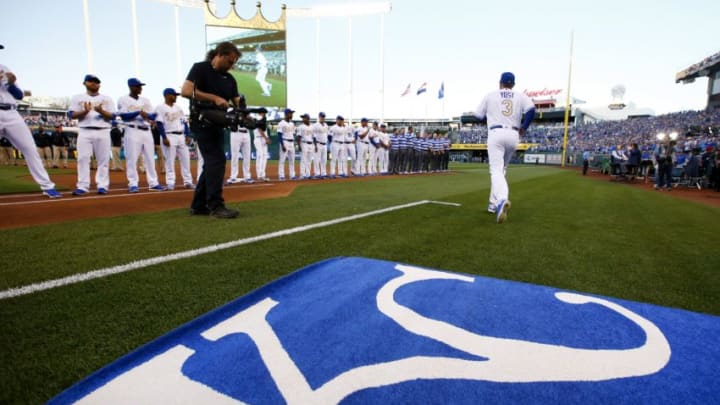 KANSAS CITY, MO - APRIL 03: Manager Ned Yost /
As the month of August begins to wind down, the Kansas City Royals have things to think about. Perhaps the biggest question heading to September will be who will get called up for a cup of coffee with the big club.
The Kansas City Royals' decision on one prospect appears to have been made for them. Bubba Starling will likely miss the remainder of the season. The 2011 first-round pick continues to struggle to keep his professional career on track.
As the Kansas City Royals' No. 5 overall pick out of Gardner Edgerton High School in Kansas, expectations have been high for the multi-sport star. Starling signed with the Royals after choosing to forego a college football scholarship.
Starling displayed five-tool ability leading to his first-round selection. However, it has been far from smooth sailing since agreeing to a record-setting $7.5 million bonus. The highest amount for a high school player and second-highest overall.
The good news for the Kansas City Royals was that Bubba was showing flashes of the promise the 25-year-old had.
In 2017 the outfielder's numbers were improving. He has slashed .248/.303/.381 on the season for Omaha.
On July 9th, Bubba was placed on the disabled list with an oblique injury. He returned to the Storm Chasers' lineup on August 11th. Eleven days later, Starling's season has come to an end.
Re-injuring the same oblique is not what he, or the Kansas City Royals, needed. 
With rosters set to expand in September, there was an above-average chance that Starling could get the call to join the Kansas City Royals. It would have been an important opportunity for him and the team.
Starling would have had the chance to see major league action. Dayton Moore would have had the chance to evaluate him in the same setting. With uncertainty on the roster for 2018, the Kansas City Royals need to know if Bubba Starling can fill a need.
Instead Bubba will be an observer for the rest of the year. He will be looking ahead to next season with even more question marks surrounding him. Many fans have given up on Starling. Perhaps he will be a late bloomer that does indeed end up contributing for the Kansas City Royals.
Next: Salvy is Back! Hallelujah...
Regardless there is nothing more that 2017 can tell us. The best thing for fans to do is to continue to hope for the best. What do you say Royals Nation? Have you given up on the former first-rounder?