Kansas City Royals lose; rumor has the world collapsing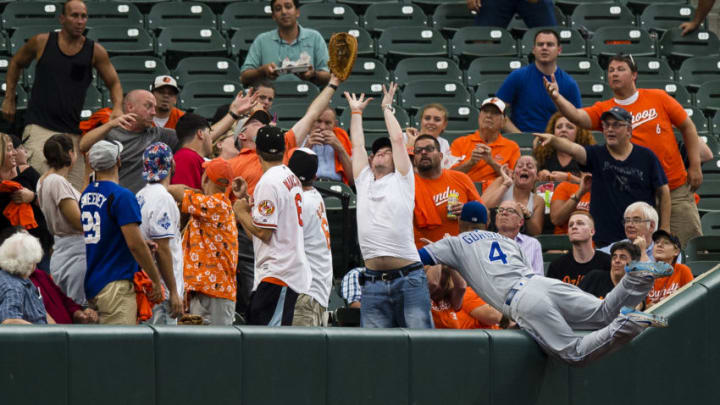 BALTIMORE, MD - AUGUST 01: Alex Gordon #4 of the Kansas City Royals is unable to catch a foul ball hit by Adam Jones #10 of the Baltimore Orioles (not pictured) in the second inning during a game at Oriole Park at Camden Yards on August 1, 2017 in Baltimore, Maryland. (Photo by Patrick McDermott/Getty Images) /
The Kansas City Royals inspire some of the most passionate game-to-game freak outs I've ever been priveliged to witness.
Thanks for joining us on this evening's edition of "Let's Freak Out over the Kansas City Royals." I see we've got a couple of newcomers to our group today; if this is your first time with us, the coffee and donuts are on that table in the corner beside the box of Dan Quisenberry bobbleheads.
Two games—and two disheartening losses to the Baltimore Orioles—following a trade deadline wherein the top brass made clear the declaration that all their chips were in on 2017 and this is the result. Fire everyone—into the sun, for making such a reckless and feckless decision with so little to build with and so much on the line.
Okay, so now that we've got that out of the way, let's all settle down just a bit.
True, a 7-2 loss to an Orioles squad light on pitching—and that's being generous—isn't the way anyone was hoping Game No. 105 might go. It's okay to be mad. It's okay to be frustrated. But don't overreact. There are course corrections to be made.
More from Kings of Kauffman
To start with, Brandon Moss can be put on a plane for Kazakhstan and never heard from again. I don't care what configuration Ned Yost ultimately decides on in regards to his Alex Gordon–Melky Cabrera–Jorge Bonifacio trio—there are compelling reasons to put all three at the corners, and there are compelling reasons to DH all three.
What there is not is any evidence that Brandon Moss is worth playing every day anymore. He's a .205 hitter after Tuesday's 0-for-3 performance, and although I'm becoming convinced that Ned is playing checkers while the rest of the league is playing chess, it's not hard to believe that any evidence at all proving Moss might still be a capable defender would have had him in the outfield more than six times.
Slow corner outfield types rarely age well as they careen into their mid-30s.
They typically become designated hitters, although usually more successfully than Moss.
The second issue hopefully addressed will be Ian Kennedy, who has been the sort of problem a playoff team can't have. Combine him with Jason Hammel and Trevor Cahill and you've probably got one really good pitcher; what you don't have is any knowledge as to which guy that'll be from week-to-week.
The Kansas City Royals got four innings, eight hits and four earned runs on Kennedy's stat line Tuesday night. You're telling me that Jake Junis, Eric Skoglund or (great heavens) Kyle Zimmer couldn't do that?
The Orioles scored twice in the first (Jonathan Schoop single and Trey Mancini double), once in the fourth (Adam Jones single) and three times in the fifth (Seth Smith double scored two, followed by a Wellington Castillo single).
The Kansas City Royals got a groundball single from Whit Merrifield to drive in Alex Gordon. For the first eight innings, they got three hits, total, against one of baseball's worst pitching staffs. So that was fun.
Smith rounded out the Orioles scoring with an RBI single in the seventh, then the Royals finally elected to show some life in the ninth with doubles by Melky Cabrera (his first hit as a Royal since 2011) and Salvador Perez to round out the scoring.
Next: The last time the Kansas City Royals won a game
The Kansas City Royals look to avoid an ignominious sweep tomorrow. Dr. Vargas will be operating, while newly-acquired Jeremy Hellickson will toe the slab for the Orioles.