Kansas City Royals Rumors: Francisco Liriano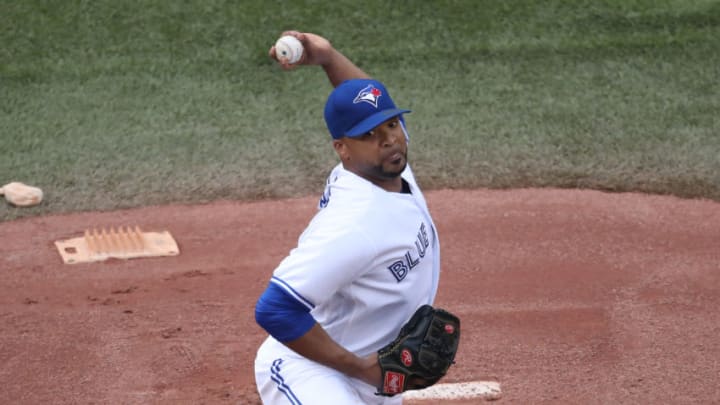 TORONTO, ON - JULY 6: Francisco Liriano /
The Kansas City Royals are looking to deal this deadline season. The team already completed a trade with San Diego that brought in three new pitchers this week. Rumors immediately began circulating that Dayton Moore may not be done adding arms to his roster.
On Wednesday there was a new name linked to the Kansas City Royals. Bob Nightengale of USA Today tweeted that the team appeared to be in talks with Toronto. The player being discussed is SP Francisco Liriano.
Here is the original tweet from Nightengale:
While I have no issue with the Kansas City Royals looking to upgrade the starting rotation, there is an issue here. Liriano is simply not an upgrade.
So far on the season Liriano is the proud owner of a 5.99 ERA. That comes with 76 2/3 IP in 17 starts for the Blue Jays. While he has found success in the past, the present is what matters most. Liriano is simply not getting it done.
He has a 8.2 K/9 rate and a 4.9 BB/9 rate. Those numbers are not inspiring in the least. He also has seen his strike out rate drop to 9.7% as mlbtraderumors.com points out here. Then there is always the question of money.
Liriano has $13M left that he is owed. Presumably Toronto would have to cover the majority of that bill to get a deal done. Even if that is the case this is simply not a trade that DM needs to make.
Like I said if the Kansas City Royals acquire a starting pitcher between now and Sunday that is fine. It needs to be at least someone who is capable of slotting in as the number three starter. Anything less than that is simply not helping the team improve.
Next: Three Possible Trade Targets
The Kansas City Royals are serious about playoff contention and to do so they need playoff quality starters. They have two-thirds of the front end puzzle. Francisco Liriano is not the final piece.