Kansas City Royals teetering on the edge of contention again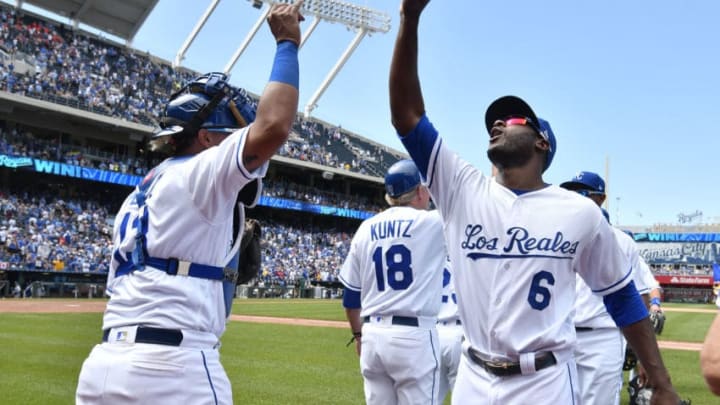 KANSAS CITY, MO - JUNE 24: Salvador Perez #13 of the Kansas City Royals and Lorenzo Cain #6 celebrate a 3-2 win over the Toronto Blue Jays at Kauffman Stadium on June 24, 2017 in Kansas City, Missouri. (Photo by Ed Zurga/Getty Images) /
From one white-flag waving AL Central cellar-dweller to the next, the Kansas City Royals close out this second-half opening homestand against the White Sox. And they should try to get some wins.
Look, the Kansas City Royals achieving that split against the Tigers was improbable and fantastic and a great way to get back to .500.
And it probably shouldn't have come to that.
The Tigers are a bad team that actively elected to make itself worse by trading away J.D. Martinez and starting the systematic teardown of the team.
The White Sox one-upped them by trading away every recognizable player on the roster—seriously, unless Paul Konerko is still around, I don't know who most these guys are, with the exception of one (we'll get to him). They're reloading their farm system and they're doing it without even offloading Jose Abreu (I did remember one, as it turns out).
It's like what the Royals would do if they decided to keep Mike Moustakas and jettison the rest of the free-agents-to-be, only if they already had a top-five farm system in place. Take away 2017 and right now, it's good to be a White Sox for the foreseeable future.
Except for the part about having to root for Melky Cabrera and wanting good things to happen for Jerry Reinsdorf. That part sucks.
Anyway, here's Jim Croce. Enjoy Royals-White Sox, sure to be great baseball or an incorrigible dumpster fire.
Game One: Ian Kennedy (3-6, 4.32 ERA) vs. James Shields (2-2, 5.10 ERA); 7:15 p.m. (CT), Friday; FSKC
Old Friend James Shields is back at the K, and it's likely he'll be pretty wistful peering around the place. Since departing in 2015 for super-green pastures in San Diego, Shields has watched his old mates win a title, got shipped to Chicago, nearly lost 20 games last season and is sporting an ERA above 5.00 in this campaign. Aside from the money, one imagines he's a man with some regrets.
More from Kings of Kauffman
Watch If: You're throwing a party where the theme is "Best of 2011" and you needed a baseball component—both of these guys peaked six years ago.
Game Two: Jason Vargas (12-4, 3.06 ERA) vs. Mike Pelfrey (3-7, 4.64 ERA); 6:15 p.m. (CT), Saturday; FSKC
Interesting times for the Doctor. He's given up 12 runs in 7.2 innings over his last two starts and was roundly shelled in his last start against Detroit. With the season still teetering, Dr. Vargas' next operation needs to be a success.
Watch If: You want to see a grown man cry on the mound. Here are career numbers for some Kansas City regulars against Mike Pelfrey:
Game Three: Travis Wood (1-3, 6.81 ERA) vs. Derek Holland (5-9, 5.09 ERA); 1:15 p.m. (CT), Sunday; FSKC
Woof. Look away. Surely somebody out there can give Ned Yost more usable innings than Travis Wood. Has he scoured a local beer league somewhere?
Watch If: You thought 8MM was the height of Joel Schumacher's cinematic oeuvre.
Kansas City Royals Predictions sure to be wrong
In Game One… walking off the field after the first inning, James Shields grabs Mike Moustakas for a brief hug and stares wistfully into his eyes for an uncomfortably long time.
Game Two: Just in case anyone was thinking of pulling a William Ligue Jr., Rusty Kuntz dons a full suit of armor before going out to coach first base.
Game Three: Baseball fans threaten a boycott unless Wood or Holland are replaced with one of the guys who threw at the Home Run Derby.