Seven Second-Half Questions for the Kansas City Royals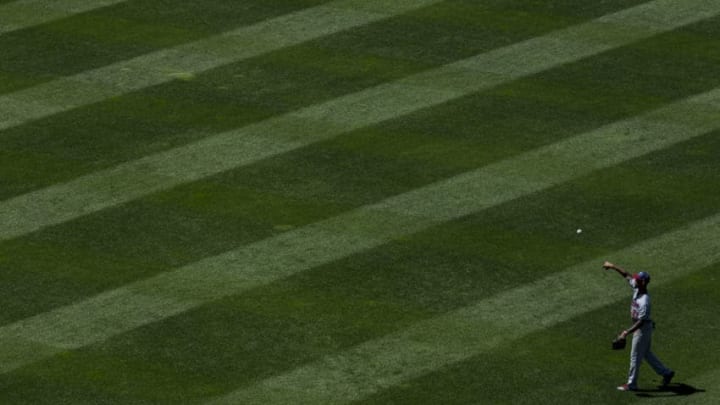 KANSAS CITY, MO - JULY 1: Byron Buxton #25 of the Minnesota Twins tosses a Kansas City Royals outfield hit back to the infield in the fifth inning during game one of a doubleheader at Kauffman Stadium on July 1, 2017 in Kansas City, Missouri. (Photo by Kyle Rivas/Getty Images) /
MIAMI, FL – JULY 10: Mike Moustakas #8 of the Kansas City Royals competes in the T-Mobile Home Run Derby at Marlins Park on July 10, 2017 in Miami, Florida. (Photo by Mark Brown/Getty Images) /
What Could Halt the Moose?
Mike Moustakas' assault on Steve Balboni's home run record is all but complete. A dozen homers short of Bye-Bye's bomb mark, it's unlikely anything short of an injury is going to halt his march toward history.
But let's play Devil's Advocate here for a second. The following is a comprehensive list of non-injury issues that would stop Moose from achieving a dozen home runs in the next 75 games. Please leave more ideas in the comments, if you have any.
Intentionally walked every time up.
MLB passes a rule that Moose must take every at-bat with a live squirrel in his pants.
Moose attempts to hit with one of those mini-bats from the souvenir shop.
An extensive hot-foot war leaves Moustakas without cleats.
He gets in an Emperor's New Clothes situation which gets him ejected prior to every single game.
Retires to open a chain of Rocky-and-Bullwinkle-themed restaurants with Roy "Squirrel" Sievers extended family.
Balboni visits New Orleans, has a hex put on Moustakas.
David Glass finds Moustakas in a compromising position with Glass' wife. Or daughter. Or an ocelot.
Slow gas leak in the clubhouse right next to Moustakas' locker.