The Dugout Suite in KC: An Experience to Remember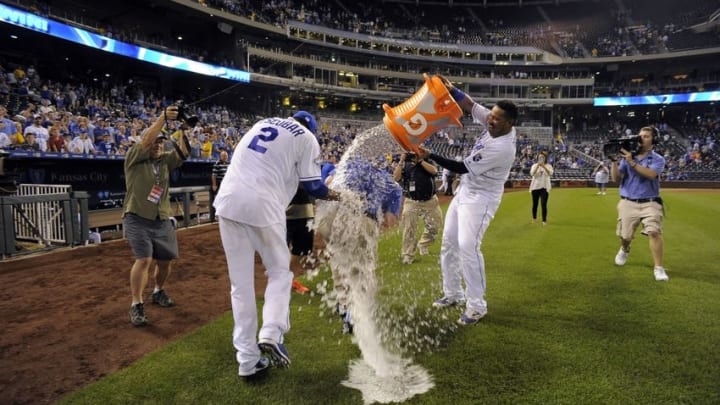 Aug 29, 2016; Kansas City, MO, USA; Kansas City Royals catcher Salvador Perez (13) dumps the water cooler on shortstop Alcides Escobar (2) and TV broadcaster Joel Goldberg after the game against the New York Yankees at Kauffman Stadium. Kansas City won 8-5. Mandatory Credit: John Rieger-USA TODAY Sports /
They say money can't buy happiness. They have never been a Royals fan sitting in the dugout suite at Kauffman Stadium.
Last July, the Kansas Lottery announced its first eight winners of a second-chance drawing for the dugout suite experience. I was one of eight lucky winners to catch the Sept. 3 game against Detroit from the suite.
The suite experience was the second part of the lottery's $5 Kansas City Royals tickets sold throughout summer. More than 23,000 non-winning tickets were registered online for the second-chance drawing. I had entered around 30 tickets into the drawing because let's be clear: I could never afford to purchase a dugout suite ticket. Those lottery tickets were my only chance.
Bobbleheads, BP and messing around with Miggy
That Saturday was Salvador Perez Bobblehead Day. Normally, that would mean standing in line for hours to be one of the first 20,000 fans to receive a bobblehead.
Not for us.
As part of the package, we had "early bird" tickets and were guaranteed not only a chance to see the Royals take batting practice, but also a bobblehead.
"Jun /
As it turns out, watching batting practice meant going down on the field to watch from the warning track behind home plate. It was my first time on the field at Kauffman, and a bit of a dream come true. We watched the Royals bat for a while, then the Detroit players made their way out.
More from Kings of Kauffman
Prior to the trip, I joked about getting a hug from Miguel Cabrera, a joker like myself. That never happened, but I did get to meet him in a sense. He was signing autographs for Royals fans and all I could think to give him was my bobblehead box. In true Miggy fashion, he made a joke about it not being his bobblehead. The bigger joke was getting an ink pen to write on the waxy box. The ink did not take but later, when Cabrera got a marker from another fan, he was gracious enough to find me and sign my box.
As a sports writer myself, I could not pass up the opportunity to meet one of the biggest names in baseball: Ken Rosenthal. I'm a fan of Tom Verducci, who was also on the field prior to the national telecast on Fox, but I could not think of his name in the heat of the moment. I called out to Rosenthal, who was kind enough to be in a picture with me.
Part of the experience included all-you-can-eat hot dogs, peanuts and cookies, and all the soda we could drink. The lottery also provided a buffet-type meal of brisket, baked beans, and mac-n-cheese. Some of that was ballpark food, some of it was not, but it's impossible to go wrong with brisket and baseball.
Still a baseball game
After all that, it was time to watch baseball. The Royals dropped out of the playoff picture with that awful seven-win July. August proved to be much better as the Royals won 20 games. Unfortunately, they had lost three-straight heading into that Saturday. Cleveland held an 8.5-game lead over Kansas City, and was 4.5 games ahead of Detroit.
But Kansas City did win that night. Mantis Mania and playoff hopes were still alive as we left. The most exciting part about the win was the Salvy Splash on his own bobblehead night. A sports photographer myself, I ran into the other dugout suite to get the best vantage point. A Royals staffer partially blocked my shot, but I still got my picture.
The photo opportunities from the suite were amazing. Just to our left were the professional photographers who do amazing work on a nightly basis. Some of those guys use multiple rigs that exceed $20,000. From the suite, even my much-less impressive camera (but still a viable sports photography camera) was still able to get some great action shots I could not have gotten from the seats.
The package included $100 to spend at the stadium, a hotel room across the street, and everything above. With the price of tickets and, even worse, the price of food and drink at professional sports venues, I've always been limited by what I can buy at the stadium. That night, money was no issue. The Kansas Lottery took care of virtually everything.
Next: How the New CBA is Good For Kansas City
Royals broadcaster Ryan Lefebvre is fond of saying, "You can't beat fun at the ol' ballpark." That's true even from the cheap seats. Living it up in the dugout suite? That's a night I will never forget.