A Dream Come True: Royals Fan Takes BP at Kauffman Stadium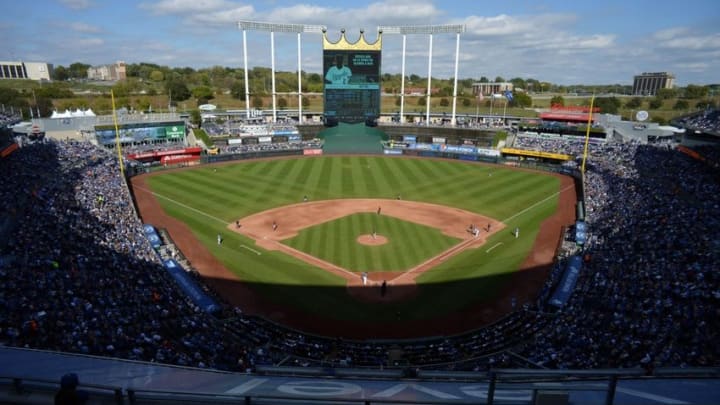 Oct 2, 2016; Kansas City, MO, USA; A general view of Kauffman Stadium in the fourth inning between the Kansas City Royals and Cleveland Indians. The Indians won 3-2. Mandatory Credit: John Rieger-USA TODAY Sports /
Kings of Kauffman contributor Mike Courson recaps his experience taking batting practice at Kauffman Stadium this past September.
It's been six weeks since the Royals last took the field, and with temperatures now dipping below the freezing point each night, what better time to reflect on one glorious day back in September.
Yep, I'm talking about Alumni Batting Practice at the "K."
Taking swings at Kauffman Stadium proved to be relatively easy. No, there were no long nights in the batting cage for me, no endless bus rides in the  minors. Just an email and a call to the Royals to let them know I would be more than happy to pay $300 for the experience.
A childhood dream come true
It had long been on my bucket list to get on the field at Kauffman. (Ironically, not long after committing to the batting practice event, the Kansas Lottery named me a winner in its Dugout Suite giveaway. I was able to take the field several weeks before the batting practice event-at a division game against Detroit no less.)
As the Sept. 24 weekend approached, I had no idea what the weather would be like, but I was hoping for high temperatures and the wind blowing out. At 34, I had not played organized baseball in some 19 years, and even that was your standard recreation baseball. And I was never much of a hitter.
With a pair of nephews coming up as Royals fans – they came along at just the right time – I had been spending some time on a ball field. As a baseball romantic, I had made the switch from aluminum bats to wood. Somewhere along the way, I developed a home run swing. Against a slow pitch and a little wind coming in, I could get a ball 240 or 250 feet. Maybe, just maybe, with ideal conditions, I could sneak a ball over that 330 sign down the left-field line in Kansas City.
More from Kings of Kauffman
Day of the event
A few days out, rain was all but certain. It was looking like batting practice might even be canceled. As the day neared, however, the chance of rain was less and less likely. Finally, on that Saturday, Mother Nature blessed us with temperatures around 85 with a moderate wind blowing straight out to left field.
The Royals are gracious with the event. Participants can bring any number of friends and family to watch from the stands. First, staff ushered everyone downstairs to go over the rules and meet the alumni players. The biggest names at our event were Brian McRae, Dennis Leonard and Willie Aikens.
We were divided into three groups, then hit the field to stretch. This was my real introduction to Kauffman. We lined up along the right field line and jogged to left field to stretch. Everything is big down there. The outfield wall is much higher than it looks on TV. The high-definition screen in center is massive. The throw from left to home – impossible.
One other thing stuck out right away: the heat. In spite of the wind and moderate temperatures, it did not take long to break a sweat. We were in shorts and tees in late summer. (All participants received a pair of shorts and a T-shirt.) It's hard to imagine being in full uniform on a windless, middle-of-the-summer Kansas City day.
Taking my cuts
My group was the first to take batting practice on the field. Staffers had told us ahead of time that no one was going to go yard. One guy nearly did, but they were right. Most of us never came close. I shot a liner up the middle that may have even gotten through in a big league game, but that's about it.
The big disappointment was the "turtle," the big batting cage you normally see over home plate. My long balls tend to be moonshots. At the K, those moonshots would have been flyouts to left. The turtle does not waste time on flyouts, it eats them. The majority of my balls simply hit the top of the cage and went nowhere. I never had the chance to see how far one of my fly balls would have gone.
After batting, we snagged some balls in the outfield. Growing up, I could not judge a pop-up. I pitched or sat on the bench. My dad, however, was an all-star center fielder in the local softball ranks. He went with me and had a chance to shag balls in all that real estate.
How do they do it?
May 4, 2016; Kansas City, MO, USA; A general view of a bag of baseballs in the bullpen prior to a game between the Washington Nationals and the Kansas City Royals at Kauffman Stadium. Mandatory Credit: Peter G. Aiken-USA TODAY Sports /
Being at field level gave us a glimpse of what the professionals do. From Alex Gordon's spot, that batter and that baseball are pretty small. We have all seen Gordon, Lorenzo Cain and others make incredible plays in that outfield. The remarkable thing is how quickly they do it. They must have an immediate read on where that ball is going, and they cannot waste a step to get to it. Needless to say, we missed a few.
From the field, we went into the underground batting cage behind the Royals' dugout. McRae, now an assistant coach at the University of Missouri, threw batting practice in one cage and Aiken soft tossed in another. The sound of the wood bat on the ball in that echo chamber gave us all a sense of false confidence before we returned to the field once more to hit our dribblers in the infield grass.
Closing thoughts
The event was supposed to run three hours, start to finish. We left the field a little early but I don't think anyone felt cheated. Many of the older, heavier guys were drenched by that point and we'd all had our fun. Frankly, after about 30 minutes, the field lost its majestic appeal and became just a really big baseball field. We each received a ball signed by the alumni present, and many of the players stuck around to take pictures with friends and family. About a week later, I received a link where I could download batting practice photos taken by a professional from behind the pitching screen.
Next: Free Agent Rumors: Who Could the Royals Sign to Play DH?
Big leaguers put in a tremendous amount of time and effort to earn the right to play in those stadiums. We got a little taste of what it's like. Playing October baseball in front of 40,000 screaming fans? That's the experience you still have to earn.