KC Royals: Ten Things That Have Gone Right In 2016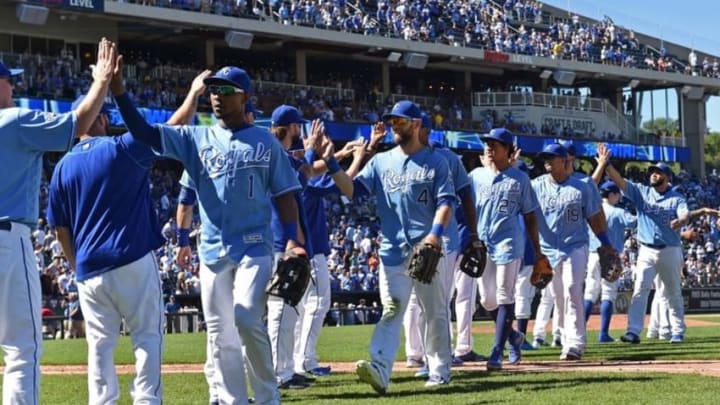 Aug 21, 2016; Kansas City, MO, USA; The Kansas City Royals celebrate after defeating and sweeping the Minnesota Twins at Kauffman Stadium. Mandatory Credit: Peter G. Aiken-USA TODAY Sports /
Aug 21, 2016; Kansas City, MO, USA; The Kansas City Royals celebrate after defeating and sweeping the Minnesota Twins at Kauffman Stadium. Mandatory Credit: Peter G. Aiken-USA TODAY Sports /
The KC Royals are 64-60 and 8.0 games behind AL Central leader Cleveland. Needless to say, most Kansas City Royals fans are more than disappointed in the defending champions in 2016. But, despite all of the negativity from their sub-par performance, many things have gone right for the 2016 Royals.
Of course, the KC Royals current eight-game win streak helps you look at the bright side of things. But, it hasn't been that way for most of the season.
After the team's July crash which saw them go 7-19 and fall out of the race, it was easy to get lost in a riptide of pessimism. The formerly-impregnable bullpen started to blow leads as closer Wade Davis struggled with a sore forearm and free-agent returnee Joakim Soria's ERA ballooned. The starting pitching was a disaster with home runs flying out of the park. The offense was averaging 3.5 runs per game in July. About the only part of the team that was playing well was the defense, and even they were falling behind the 2015 squad.
That's not even mentioning the injuries.
Deflated By Injuries
Mike Moustakas tore his ACL and was lost for the season in a May 23 collision with third baseman Alex Gordon. Gordon broke his hand in the collision and only recently has started to hit. Lorenzo Cain missed July with a hamstring injury. Number four and five starters Kris Medlen and Chris Young went on the DL in May. Medlen hasn't pitched since, and Chris Young returned quickly but has been a gopher ball machine as a starter all season. He has, however, proven useful out of the pen (2.29 ERA in 19.1 IP as a reliever).
Luke Hochevar injured his shoulder in late July and will now miss the rest of 2016 after surgery to repair thoracic outlet syndrome. Closer Wade Davis suffered from a sore forearm that caused him to miss the first two weeks of July. He returned to the disabled list July 27 after never really recovering from the injury. He's still hasn't returned to action as of August 17. 
Honestly, the KC Royals haven't suffered an unusual amount of injuries. It just seems that way because they largely avoided serious health problems in 2014 and 2015.
However, among the litany of woes, more things have gone right than most Royals fans want to admit. Without the following 10 things going well for the Kansas City Royals, the team wouldn't be anywhere close to .500—or still have an outside shot at making the post-season:
Next: No. 10