KC Royals: 5 Things KC Must Do To Sneak Into Post-Season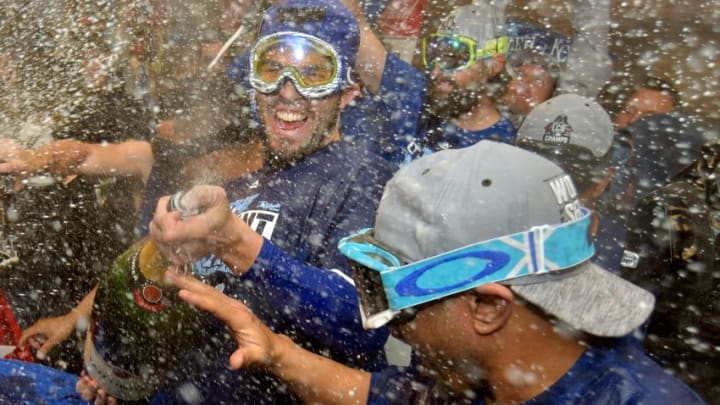 Oct 23, 2015; Kansas City, MO, USA; Kansas City Royals first baseman Eric Hosmer (left) sprays champagne in the clubhouse to celebrate after defeating the Toronto Blue Jays in game six of the ALCS at Kauffman Stadium. Mandatory Credit: Denny Medley-USA TODAY Sports /
Aug 7, 2016; Kansas City, MO, USA; Mandatory Credit: Denny Medley-USA TODAY Sports /
5. Get Increased Offensive Production From Second Base
Twenty-one year old rookie Raul Mondesi Jr. has flashed the impressive tools that made analysts rate him the top prospect in the KC Royals system. But, in 19 games in Kansas City, Mondesi still has an OPS of .550.
More from Kings of Kauffman
No matter how good his defense and base-running skills might be, Mondesi is going to need to hit more to keep his job.
Aside from his own personal future in the big leagues, Mondesi will also need to contribute more offense for the KC Royals to make a playoff run. Yes, his bunting skills are useful. Mondesi also shows jaw-dropping range at second, and a shortstop quality arm.
But, as long as he keeps slashing .213/.238/.311 with an adjusted OPS of 45 (55% worse than a league average hitter), he's a black hole in the lineup. Perhaps a team with a strong offense could tolerate that, but not the light hitting Kansas City Royals.
Two Offensive Black Holes
The biggest problem is that BOTH second baseman Raul Mondesi Jr. and shortstop Alcides Escobar are lineup black holes. If Escobar weren't slashing a nearly-as-bad .250/.288/.320, the Royals might be able to absorb Mondesi's weak bat.
As it is, the KC Royals rank 27th in runs scored in major league baseball. Kansas City averages only 3.91 runs per game on the season. Even in their hot August, in which the team has gone 10-5, the Kansas City Royals are only scoring 4.13 runs per game. As a result, they put the pitching staff in a position where any little mistake can lead to disaster.
That number needs to improve if the winning is going to continue. Their cause will be greatly enhanced if they don't have to rely on the pitchers to dominate every game for the team to win. Hence, the bullpen and defense will have more room to make mistakes.
The good news is that Mondesi slammed his first career home run on Tuesday night against Tigers ace Justin Verlander. Mondesi showed good pop for a middle infielder in the minor-leagues this season. If he can slam more extra base knocks, and beat out a few infield hits, Mondesi could become playable down the stretch.
If not, the KC Royals had better hope that utility man Christian Colon or AAA prospect Whit Merrifield get hot in the finals weeks of the season.
Next: Thing No. 4