KC Royals: 5 Things KC Must Do To Sneak Into Post-Season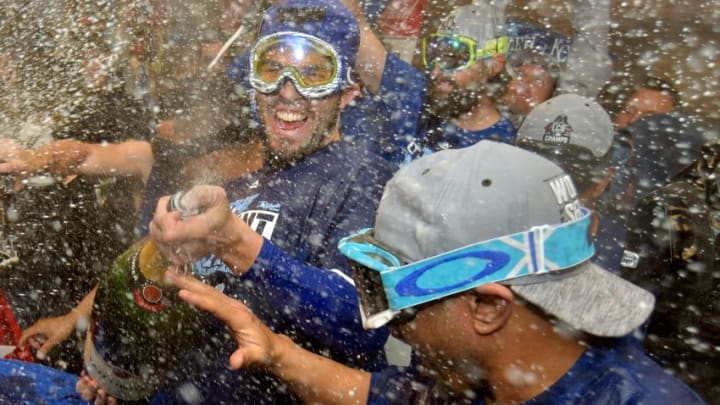 Oct 23, 2015; Kansas City, MO, USA; Kansas City Royals first baseman Eric Hosmer (left) sprays champagne in the clubhouse to celebrate after defeating the Toronto Blue Jays in game six of the ALCS at Kauffman Stadium. Mandatory Credit: Denny Medley-USA TODAY Sports /
Oct 23, 2015; Kansas City, MO, USA; Mandatory Credit: Denny Medley-USA TODAY Sports /
The KC Royals can reach .500 with a victory Wednesday over the Detroit Tigers. Trailing the Indians by 10 games in the AL Central and three teams by 7.5 games for the wild card, KC will need to play close to .700 baseball over the season's last six weeks.
Even if Kansas City can pull off such a feat, it still doesn't guarantee a playoff spot. Going 30-13 over the season's final six weeks will only give the Royals 89 wins. That might not be good enough to either win the AL Central or earn a wild card. The KC Royals trail the Indians by 10 games in the Central, and must climb over five teams to earn a wild card.
That's not easy. Kansas City will probably need some help from other teams to win a wild card.
There's Still Hope For An AL Central Title
Even though they trail the Indians by 10 games, however, KC still has six games remaining against Cleveland. The Royals must also gain four games on Detroit to win the AL Central title. Kansas City has seven games left against Detroit.
The KC Royals can make big inroads against the Indians, and surpass the Tigers, by dominating their remaining head-to-head games. But the only way Kansas City can snag a wild card is if two of the five teams ahead of them does not get similarly hot.
Of course, the Kansas City Royals can only control how they play. With that in mind, most of the following five things will have to happen for the Royals to put themselves in position for a playoff berth with a win total in the high 80's.
Next: Thing No. 5