Royals Report: 4 Things About Father's Day Walk-off Win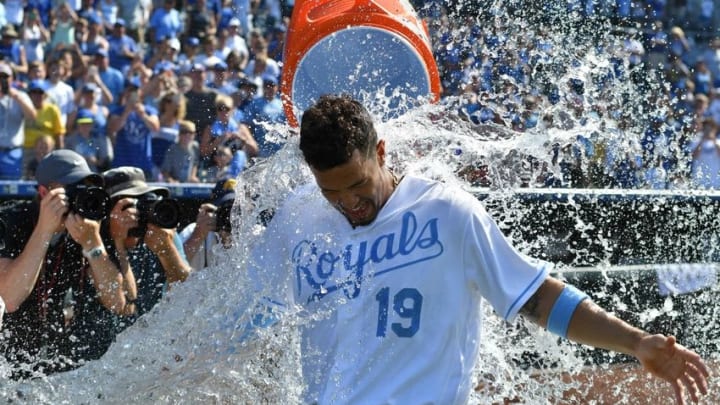 Jun 19, 2016; Kansas City, MO, USA; Kansas City Royals third baseman Cheslor Cuthbert (19) gets doused by catcher Salvador Perez (not pictured) after hitting the game winning walk off single in the thirteenth inning over the Detroit Tigers at Kauffman Stadium. The Royals won 2-1. Mandatory Credit: Denny Medley-USA TODAY Sports /
Jun 19, 2016; Kansas City, MO, USA; Kansas City Royals relief pitcher Chien-Ming Wang (67) delivers a pitch in the twelfth inning against the Detroit Tigers at Kauffman Stadium. The Royals won 2-1. Mandatory Credit: Denny Medley-USA TODAY Sports /
2) Even The Garbage Men In The KC Royals Bullpen Are Good
When teams go deep into games like the Royals and Tigers did Sunday night, you really see the depth of both bullpens. Of course, the KC Royals have an almost unfair advantage over any team in baseball in such a situation, because not only are their top bullpen arms dominant, their depth is unmatched in major-league baseball.
More from KC Royals News
So it felt like only a matter of time when the game got to guys like Peter Moylan and Chien-Ming Wang for the Kansas City Royals and Carlos Rodon and Kyle Ryan for the Tigers. Even though spoiled KC Royals fans cringe when guys like Moylan and Wang get into the game, both sport quite respectable 3.00 ERAs. That's better than a lot of team's primary set-up. For Kansas City, they're mop up guys.
Of course, it gets harder for teams to score runs deep into extra innings since the hitters get mentally worn down. Nine innings day after day is enough of a grind. Add another hour on top of that, and a lot of minds turn to mush.
That's not a good thing when you're trying to hit a fastball travelling faster than 90 mph.
Wang, in fact, has a perfect 4-0 record, largely because he usually gets in games that are so out of hand that he'll doesn't have many chances to get tabbed with a loss. He pretty much only has a chance for upside (wins), and with the KC Royals comeback tendencies, he could finish the season with double digit wins.
Of course, that's much less impressive in an era that discounts pitcher wins as a stat.
Next: Cheslor Cuthbert