Royals Report: 4 Things About Father's Day Walk-off Win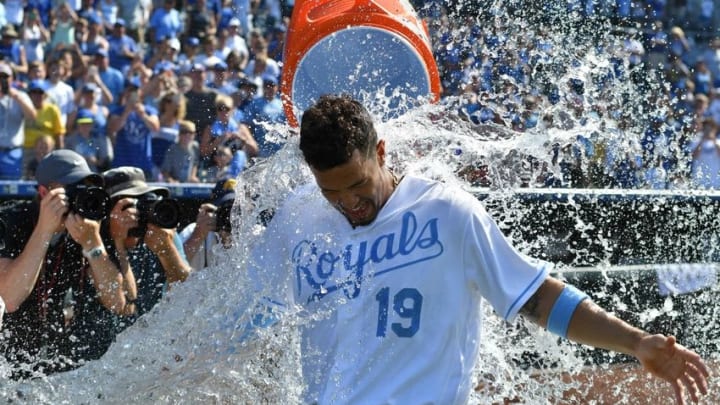 Jun 19, 2016; Kansas City, MO, USA; Kansas City Royals third baseman Cheslor Cuthbert (19) gets doused by catcher Salvador Perez (not pictured) after hitting the game winning walk off single in the thirteenth inning over the Detroit Tigers at Kauffman Stadium. The Royals won 2-1. Mandatory Credit: Denny Medley-USA TODAY Sports /
Jun 19, 2016; Kansas City, MO, USA; Kansas City Royals starting pitcher Chris Young (32) delivers a pitch in the first inning against the Detroit Tigers at Kauffman Stadium. Mandatory Credit: Denny Medley-USA TODAY Sports /
4) Chris Young Got It Done On Father's Day
Starting Chris Young has been something of an adventure in the 2016 season. He's given up more home runs than any pitcher in baseball, an absurd 19 home runs in 51.1 innings pitched. Some days, it felt like Chris Young was throwing batting practice out there, especially in his starts in Yankee Stadium and Jacobs Field earlier this season.
More from KC Royals News
Of course, Chris Young's fly ball tendencies are much better suited to the massive Kauffman Stadium. His home and away splits are extreme this season: Young had a 3.00 ERA at home coming into Sunday's game, with a 9.70 ERA on the road.
Gosh, maybe Chris Young only start games in Kansas City. However, that makes too much sabermetric sense for KC Royals manager Ned Yost. If he did something like that, his clubhouse might think he had been replaced by a statistically-oriented space alien—or that he's suffering from low testosterone syndrome.
So, it's not at all surprising that Chris Young pitched well on Sunday. He lasted 6.0 innings, giving up a mere 3 hits, 1 walk, 1 earned run, with 7 strikeouts. Young did give up a solo home run in the third inning, but he still left with the game tied 1-1 before the seventh inning.
Really, you couldn't ask for anything more.
That is, of course, if we're talking about Chris Young. If we're talking about Ned Yost, PLEASE FOR THE LOVE OF BASEBALL, DON'T START CHRIS YOUNG IN A BANDBOX. Chris Young is a SPOT STARTER, which means USING HIM IN THE RIGHT SITUATIONS!
On Sunday, the Kansas City Royals beat a top of the rotation starter (Jordan Zimmerman) with their no. 5 pitcher because the game took place in a park where Chris Young is likely to succeed.
Next: Paulo Orlando