Royals Report: 4 Things About Breaking The Losing Streak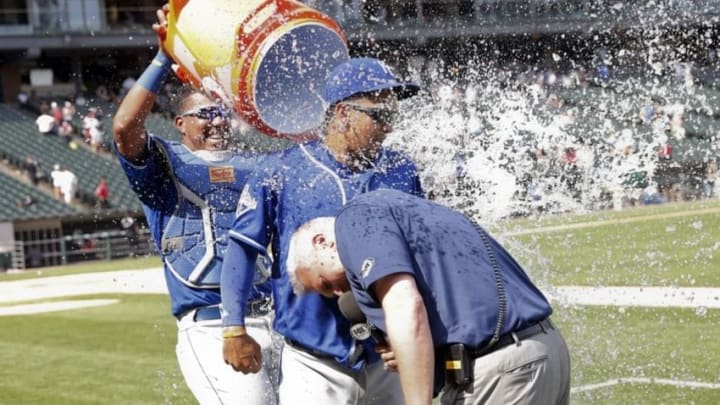 Jun 11, 2016; Chicago, IL, USA; Kansas City Royals catcher Salvador Perez (left) dumps water on teammate third baseman Cheslor Cuthbert (middle) as Joel Goldberg interviews him after a 4-1 win against the Chicago White Sox at U.S. Cellular Field. Mandatory Credit: Kamil Krzaczynski-USA TODAY Sports /
Jun 11, 2016; Chicago, IL, USA; Kansas City Royals catcher Salvador Perez (left) dumps water on teammate third baseman Cheslor Cuthbert (middle) as Joel Goldberg interviews him after a 4-1 win against the Chicago White Sox at U.S. Cellular Field. Mandatory Credit: Kamil Krzaczynski-USA TODAY Sports /
The KC Royals FINALLY broke their eight-game losing streak by defeating the Chicago White Sox 4-1 at U.S. Cellular Field Saturday afternoon.
DING DONG THE LOSING STREAK IS DEAD!!!
The Royals improved to 31-30 and remained 3.5 games behind the Indians in the AL Central while moving into second place in division. The White Sox fell to 31-31 and four games behind Cleveland.
I must confess the last nine days (eight losses in a row plus an off day Thursday) seemed like they would last forever. Watching games was a CHORE, and did nothing but made me angry and frustrated—until I decided to stop letting them affect me that way.
For a fan, it's pretty easy to pull back and turn off the TV, or computer. For a player, you simply have to grind through the road trip from hell. And, this time, your Dads get to watch since the team brought their players fathers along for the ride for the team's annual Father's Day trip.
I don't care how old and mature you are. You don't want to suck at your job in front of your Dad.
So today, everything that went haywire for nine days suddenly fell in place. Starter Danny Duffy dominated. The offense scored four runs, and the bullpen held the lead while finishing out the final three innings of the game.
Now that the ordeal is over, you wonder why it took so long.
On to my observations about Saturday's win:
Next: Danny Duffy