Royals Report: 3 Things About Brawl In Baltimore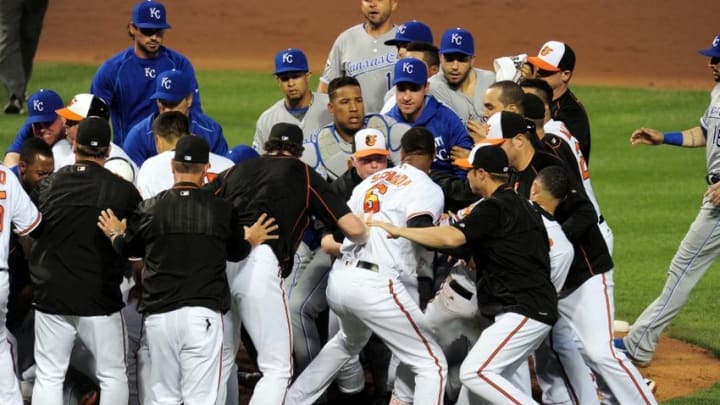 Jun 7, 2016; Baltimore, MD, USA; Players brawl during the game between the Kansas City Royals and Baltimore Orioles at Oriole Park at Camden Yards. The Orioles won 9-1. Mandatory Credit: Evan Habeeb-USA TODAY Sports /
Jun 7, 2016; Baltimore, MD, USA; Players brawl during the game between the Kansas City Royals and Baltimore Orioles at Oriole Park at Camden Yards. The Orioles won 9-1. Mandatory Credit: Evan Habeeb-USA TODAY Sports /
The KC Royals tailspin reached six games in a row with their 9-1 loss to the Baltimore Orioles at Camden Yards Tuesday night. Yordano Ventura touched off a brawl when he hit Orioles shortstop Manny Machado in the back with a 99-mph fastball.
The Kansas City Royals simply can't break out of their slide, despite the Orioles starting Ubaldo Jimenez, who began the game with an 6.59 ERA. Despite 10 hits, four walks, and 10 runners in scoring position, the KC Royals were still not able to score more than one run.
You're not going to win many games that way.
What's disturbing is that Kansas City Royals hitters missed all kinds of hittable pitches from Ubaldo Jimenez with runners in scoring position. It's not as if the KC Royals didn't have their chances. They just weren't able to cash them. Their play screams that they're a team that has lost its confidence, which is something that's rather hard to believe coming from the defending World Champions.
Yordano Ventura turned the game into a circus in the bottom of the fifth inning when he plunked Manny Machado in the back. The two had exchanged heated words in the second inning when Ventura pitched him inside before retiring Machado on a hard-hit fly ball. Rather than remain satisfied that he had gotten into Machado's head, Ventura felt he had to hit him.
At the time, the Royals were trailing 5-1 and still had an opportunity to get back in the game. After umpires ejected both Ventura and Machado, Mark Trumbo pretty much ended those hopes by blasting his second home run of the game to make the score 7-1.
If anything, having to defend Ventura in a brawl that he instigated deflated—rather than fired up—the Kansas City Royals.
On to my observations about the game:
Next: As The Game Turned