Royals: 5 Reasons The Walking Dead Offense Rose From The Grave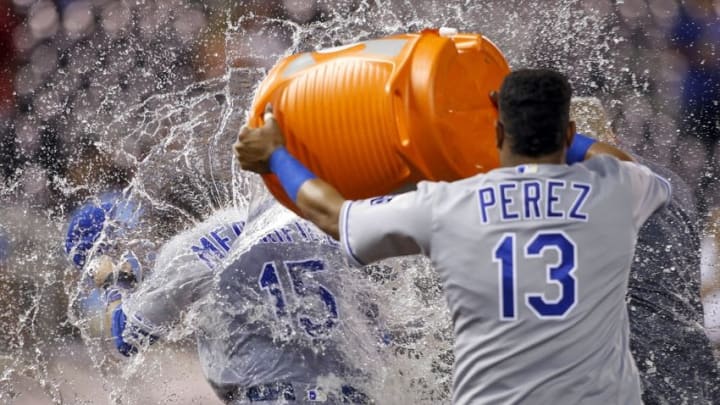 May 24, 2016; Minneapolis, MN, USA; Kansas City Royals catcher Salvador Perez (13) dumps a bucket of water on second baseman Whit Merrifield (15) after they defeat the Minnesota Twins 7-4 at Target Field. Mandatory Credit: Bruce Kluckhohn-USA TODAY Sports /
May 24, 2016; Minneapolis, MN, USA; Kansas City Royals catcher Salvador Perez (13) dumps a bucket of water on second baseman Whit Merrifield (15) after they defeat the Minnesota Twins 7-4 at Target Field. Mandatory Credit: Bruce Kluckhohn-USA TODAY Sports /
2) Salvador Perez Loves Target Field
Salvador Perez entered Wednesday's game hitting a ridiculous .370/.385/.636 at Target Field over 40 games in his career. That .636 slugging percentage is the highest of ANY player at Target Field.
Frankly, Salvador Perez owns the place. If the Twins somehow manage to acquire him, they'll end up changing their home park's name to Salvador Perez Field.
More from KC Royals News
For some reason, Salvador Perez just seems to see the ball well there—and hit the bejeezus out of it. Perez has slammed 10 home runs, 1 triple, and 9 doubles at Target Field for 27 RBIs in 40 games. Project that out to a full season, and he'd post power numbers of 36 doubles, 40 home runs, 4 triples, and 108 RBIs.
Yeah. I'd like to see that.
If only we could somehow turn everywhere in major-league baseball into Target Field. I guess that's why KC Royals hitting coach Dale Sveum get's paid the big bucks. It's his job to figure such things out.
Next: Reason No. 1