Kansas City Royals to exceed expectations…again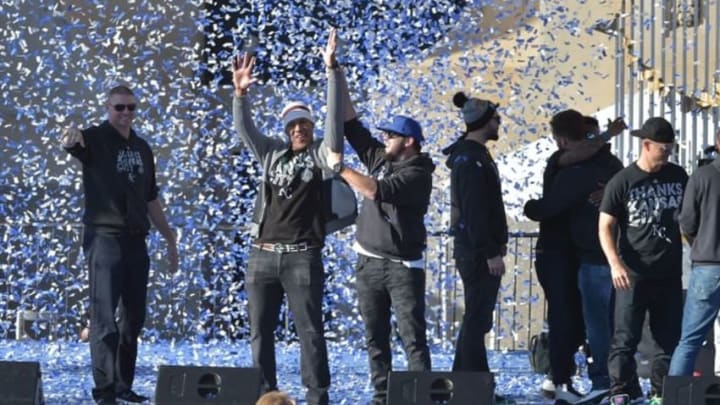 Nov 3, 2015; Kansas City, MO, USA; Kansas City Royals catcher Salvador Perez (13) and third baseman Mike Moustakas (8) celebrate the World Series championship at Union Station. Mandatory Credit: Denny Medley-USA TODAY Sports /
Another year, and the Kansas City Royals are still being doubted by experts. When will they learn from the error of their ways?
So, the Kansas City Royals are expected to finish fourth in the American League Central…again. Maybe even last. In the last few seasons, the Royals have been a sort of Bizarro-Notre Dame football team: they always exceed expectations, at least according to PECOTA projections.
PECOTA, which uses a variety of mathematical equations to determine how many wins a team should have, has predicted Kansas City will manage just 76 wins in the upcoming season – worst in the Central and second worst in the American League.
But here's how much one should trust PECOTA: last year, the program said the Royals would win just 72 games. They actually won an American League-best 95 games and, of course, went on to win the World Series. In 2014, the Royals won 10 more games than PECOTA predicted, and the margin was the same in 2013. Still have faith in PECOTA?
More from KC Royals News
The Royals roster will feature many of the same names as last year and it is a team that has proven it finds ways to win with back-to-back World Series appearances.
Last year, Johnny Cueto pitched when it mattered, but he was otherwise terrible in the month of September with a  1-4 record and a 6.11 ERA.
What Kansas City does return is a handful of legitimate arms. Yordano Ventura finished last September with a 3-1 record and a 3.50 ERA. He is currently listed No. 2 in the rotation behind Edinson Volquez. Volquez was not quite as impressive late last year, but he earned his "Steady Eddie" nickname with 13 wins and a 3.55 ERA over 200 innings of work.
Ian Kennedy, currently third in the rotation, may be a bit of a gamble. But if Dayton Moore has taught fans anything, it's to trust his judgment. Kennedy finished with a 4.28 ERA in 168.1 innings last year for San Diego, and ate up 201 innings the year before that. The risk is that Kennedy has not been super impressive since a 21-4 outing for Arizona in 2011.
Chris Young, Kris Medlen, and Danny Duffy are also vying for starting spots. Young was spectacular late last season with a 3-0 record and 2.85 ERA in September and beyond. Medlen threw just 58.1 innings last year but posted a 6-2 record. He was 25-13 in the two seasons before missing 2014 with an injury. Likewise, Duffy has the potential to be great if he can stay healthy. He carried a 2.53 ERA in 149.1 innings of work in 2014, and went 2-0 with a 1.85 ERA in 24.1 innings in 2013.
If anything, the bullpen may have gotten stronger with Wade Davis officially taking over the closer role. Davis has been the best bullpen guy in baseball over the past two seasons. He struck out 15 in 9.2 innings in the post-season last year, and has an ERA hovering around 1.00 in two seasons since moving back to the bullpen.
Live Feed
NFL Straight Up Picks for Every Team in Week 14 (Fade Fraudulent Vikings vs. Lions, Panthers Pounce at Seahawks) /
Betsided
With Greg Holland gone, Joakin Soria could move into the setup role. He peaked with the Royals in 2010 with a paltry 1.68 ERA in 65 innings of work. He's thrown significantly fewer innings over the past several seasons, but did get back to 67.2 innings last season with Detroit and Pittsburg, maintaining a respectable 2.53 ERA.
Soria can fight it out with Kelvin Herrera, the first part of that HDH combination that has made Kansas City a winner. Herrera has averaged 70 innings of work the past two seasons and carried a meager 1.41 ERA in 2014.
Defensively, the Royals look much the same as they did in 2015. The biggest difference will be right field as Jarrod Dyson currently leads the depth chart. If anything, he's a defensive upgrade to Alex Rios. Next in line is the speedy Paulo Orlando, another upgrade to Rios.
Around the horn, Kansas City returns three Gold Glove winners in Eric Hosmer at first, Alcides Escobar at short, and Salvador Perez behind the plate. Alex Gordon had won four Gold Gloves prior to going down with an injury last year, and Lorenzo Cain in center field is always in the conversation for more gold. Finally, Mike Moustakas returns as a reliable third baseman.
Offensively, the Royals know how to manufacture runs. Kansas City was the only team to stay under 1,000 strikeouts last season (973). The next-closest team was Atlanta with 1,107 punch-outs. Factor in a .269 team average from last year – third in the AL – and the Royals are putting the ball in play and making things happen.
According to PECOTA, Cleveland will win the AL Central with 93 wins, easily beating out the White Sox by 11 games. Minnesota will edge Detroit and Kansas City by two games to stay out of the basement.
Spring training standings mean little, but Cleveland is already doing its part to prove PECOTA wrong with a 6-9 start in spring training. The White Sox are little better at 10-8 as of March 22. Admittedly, Kansas City is third from bottom in the American League at 10-13 to start.
The bottom line is this: until something changes, Kansas City is in the driver's seat for another division title. Last season, the Royals posted a winning record against all four Central opponents, totaling 44 wins and 32 losses. Even in 2014, when Kansas City had to settle for a Wild Card spot, the Royals went 33-24 combined against Cleveland, Minnesota, and the White Sox.
Next: Royals reassign Alexander, Flynn to Omaha
So, thanks, PECOTA. Looking up and down the Royals roster, a lot of the same names stick out. If the names are the same and the PECOTA predictions are the same, perhaps we should expect the same results – nothing to complain about for Royals fans.