KC Royals Land Two Prospects in Baseball America Top 100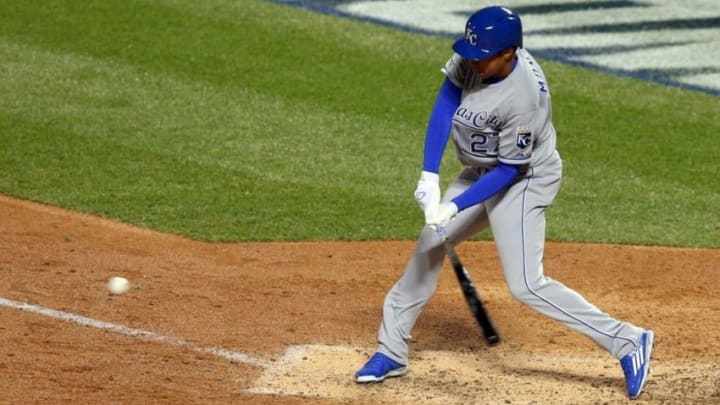 Oct 30, 2015; New York City, NY, USA; Kansas City Royals batter Raul Mondesi makes his major league debut as a pinch hitter against the New York Mets in the 5th inning in game three of the World Series at Citi Field. Mandatory Credit: Brad Penner-USA TODAY Sports /
The other day, Keith Law ranked the KC Royals minor league system 23rd out of 30 teams in baseball. Yesterday, Baseball America revealed their top 100 prospect list, with only Raul Mondesi and Kyle Zimmer making the list.
After years of being one of the more highly regarded farm systems in baseball, it was time for the KC Royals to take a step back. Their top prospects have, for the most part, either graduated to the majors or were traded away at last year's trade deadline to bring in Johnny Cueto and Ben Zobrist. As such, it was not surprising that the Royals farm system is considered to be the 23rd best in baseball by Keith Law.
However, the cupboard is not bare. Despite ranking that low, the Royals are still considered to have two of the top 100 prospects in baseball. Yesterday, Baseball America released their Top 100 Prospects list, with Raul Mondesi (29) and Kyle Zimmer (85) making the list.
More from KC Royals Prospects
Mondesi, who made his major league debut during last year's World Series despite not having an appearance during the regular season, is far and away considered the Royals top prospect. Although Baseball America considers his offensive game as middling, with a 55 rating for his hit tool and a 50 rating for power, Mondesi did earn a 70 rating in speed, defense and arm strength. Expected to arrive in the majors next year, the hope is that he can refine his offense while producing the type of defense Royals fans have become accustomed to seeing at the position.
Zimmer, meanwhile, is listed in the Baseball America top 100 for the fourth consecutive year. His curve still receives praise from scouts, as it is rated a 70, there are concerns. Zimmer's lack of secondary pitches aside from the fastball, with both his slider and change rated as a 45, along with his health woes over the years, have pushed him down the list. Yet, the upside is still there with Zimmer, as evidenced by his excellent 2.39 ERA and 1.141 WHiP, while he struck out 72 batters in 64 innings.
Perhaps the only other player that could make this list would be former top prospect Bubba Starling. After three disappointing seasons to begin his professional career, Starling began to show signs of life, producing a .269/.337/.448 batting line, with 12 home runs and 23 doubles, in his two minor league stops. Should Starling follow up his 2015 performance with another strong season, the former top prospect may make another appearance on the Baseball America list prior to next season.
Next: Royals agree to two year deal with Mike Moustakas
The KC Royals system may not be highly regarded currently, but that does not mean that the minors are bereft of talent. Raul Mondesi and Kyle Zimmer are still considered among the top prospects in baseball, and the young talent in the system could take a step forward next year. There is still quite a bit to look forward to.