KC Royals: Does remaining schedule help or hurt?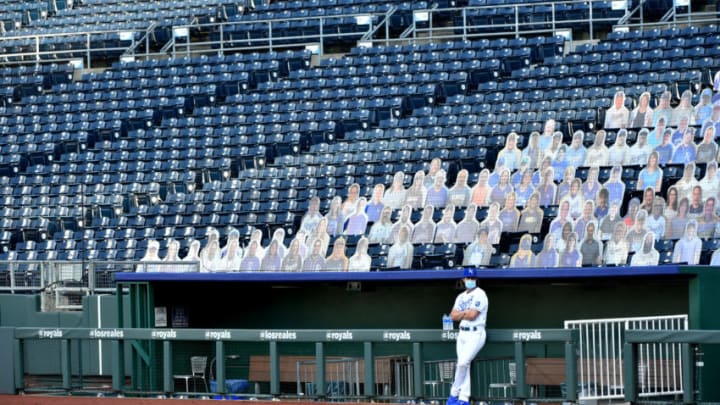 (Photo by Ed Zurga/Getty Images) /
A total of 15 games remain before the KC Royals must make any trades they might be considering. Whether they're buyers, sellers, or make no moves, what is the postseason prognosis?
Not to be overlooked in this analysis are the 15 games remaining before the Aug. 31 trade deadline. Excluding the game scheduled that day with Cleveland, which presumably will be played after the deadline passes, the KC Royals have seven with the Twins, three each with the White Sox and St. Louis and two with the Reds. Those games, against teams with a combined 32-29 record, will determine whether Kansas City will buy, sell, or stand pat.
Prognosis.  Absent an extension of the regular season forced by rainouts or pandemic-related postponements, the KC Royals won't be playing October baseball unless their record improves significantly. Thoughts of contention can't be seriously entertained until the club reaches .500, a goal certainly within their grasp at 8-11.
But it won't be easy for new manager Mike Matheny, his staff and the players. Kansas City's next four games are at Minnesota, making a second straight series sweep of the Twins unlikely. Sandwiched between those four and three with the Twins at Kauffman Stadium are two at The K with Cincinnati. Winning six of those nine games–a tall task considering seven are against Minnesota–would leave KC at .500 with 32 games to play.
Of those final 32 contests, 21 will be against the always formidable Indians, improved White Sox, and now unpredictable Tigers, currently a combined 29-25; the other 11 will pit the KC Royals against NL clubs St. Louis, Pittsburgh, and Milwaukee, currently a collective 13-26.
Realistically, Kansas City can't get to the postseason without capitalizing on the golden opportunity playing the NL Central clubs presents. The Brewers aren't performing particularly well, no one knows how the Cardinals will hold up as they try to cram so many missed games into an ever-narrowing time frame, and the Pirates are just a bad team. Winning almost all their remaining contests with the NL teams is a Royal must.
Even if they dominate those clubs, though, the Royals need to exceed preseason expectations against their American League rivals. They can't afford to go anything less than .500 against Minnesota; simply cannot allow the Indians to beat them over 63 percent of the time as they have since the Royals last won the division; can't let Chicago sweep them again; and have to dominate Detroit.
Can the KC Royals win the games they should against the NL Central and be even better against the AL Central? Perhaps. The starting pitching must be solid from top to bottom, so rookies Brady Singer and Kris Bubic need to step up even more than they already have. The bullpen has to be as good as it's been so far (a bit better wouldn't hurt, and Ian Kennedy can't continue to give up home runs). The club needs to score more runs, and an Alex Gordon turnaround would be helpful.
(And the club shouldn't think for even a second about sneaking into the postseason with a losing record, something possible only in this unique campaign. It's a long shot at best).
At the end of the analytical day, the Royals making the playoffs isn't terribly likely. But in a short season where anything can happen, it may not be terribly unlikely, either. And this Kansas City team is, so far, looking a bit better than it was supposed to. Don't count KC out of this unusual campaign just yet.
The KC Royals have 41 games left this season. It will be interesting to see where those contests lead.