Flashback Friday: KC Royals manager Ned Yost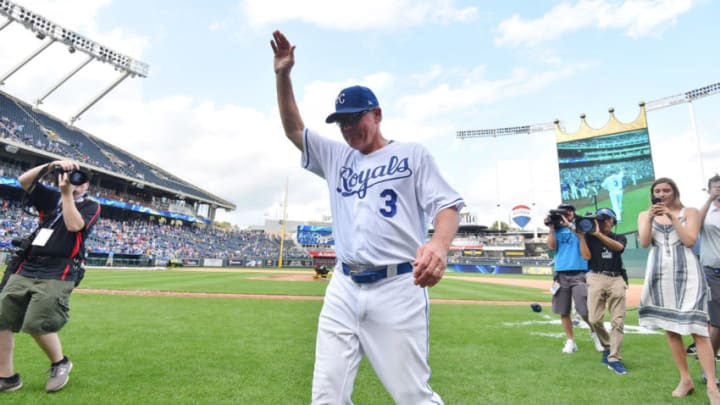 KC Royals, Ned Yost (Photo by Ed Zurga/Getty Images) /
The KC Royals needed guidance in the early 2010s and Ned Yost was brought in to provide that. Luckily, he was able to lead the team to greatness.
If one were to talk about major league catchers that were a part of the KC Royals, many would likely assume the conversation was about Salvador Perez. He is, of course, a fan favorite. There was, however, another catcher on the Royals that helped lead them to greatness, though "former" must be placed in front of the catching title.
Former major league catcher Ned Yost was no longer a player when he came to Kansas City. Instead, he was well known as manager. Yost's managerial career didn't start in Kansas City though.
Yost was hired to manage the Milwaukee Brewers in 2002. He did have a couple of winning seasons but did not see the success that some would hope. In 2008, Yost was managing a decent season and saw his team in the lead for a wildcard spot. Unfortunately, a bad stretch of games saw them losing the lead and Yost losing his position.
Milwaukee decided it was time to move on and with only a handful of games left in the season, let Yost go. It wasn't long though before Yost found his way to Kansas City.
In 2010, GM Dayton Moore hired Yost as a special assistant to baseball operations. For some, this move was seen as preparations for Yost to eventually take over as manager, but of course, it wasn't expressed that way.
It wasn't long though before the current Royals manager Trey Hillman was let go, and Yost was moved in to take his spot. The 2010 record still wasn't pretty, and the team only won 2 more games than the previous season, but under Yost, things began to look up.
In 2011 and 2012, things started to take a turn for the better. The Royals, having won 65 and 67 in '09 and '10, now put up records of 71-91 and 72-90. Still nothing too amazing, but improvement is an improvement.
Finally, in 2013, the Royals saw some movement. Likely a combination of both Ned and better players starting to come around, the Royals jumped to an 86-76 record. This paved the way for Yost to cement his place in the Royals, and baseball history.
In 2014 and '15, Yost helped the Royals to back to back World Series. He won 2 American League Pennants with the team and 1 of those 2 World Series. An amazing streak of wins in the 2014 postseason helped to leave Yost with a current top postseason winning percentage among managers who have 20 postseason appearances (.710).
Unfortunately, the celebration didn't last long. The next two seasons saw 81 and 80 wins,  but 2018 and '19 saw the team losing over 100 games in each season.
Yost stuck around longer than some thought he would, or would be allowed, but ushering in a new era of Royals baseball was the plan, and Yost was ready to take the bad years onto his shoulders.
In 2019, Yost announced that he would be retiring. While his last few seasons were those of loss, Yost will always be remembered for what he accomplished in the postseason.
Yost was able to bring winning back into the dictionary of Kansas City baseball. He had some strange techniques at times, but when fans remember Ned Yost, they will remember the postseason wins, the World Series, and his love for Kansas City.
Ned Yost had plenty of fans and plenty of critics but his managing through the years is something that will be remembered forever. Yost helped pump life back into the Royals organization and will always be remembered as someone who helped keep fans Forever Royals.