KC Royals Rewind: The worst club in franchise history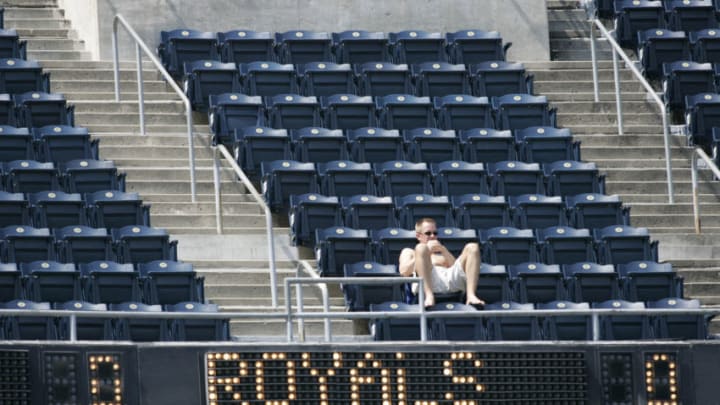 (Photo by G. N. Lowrance/Getty Images) /
(Photo by Dave Kaup/Getty Images) /
The KC Royals expected their pitching to be good in 2005. It wasn't.
The KC Royals had reason to believe their 2005 starting rotation would help them improve on their 58-104 record of the season before. Pitching for a bad 2004 team, rookie Zack Greinke had impressed with an 8-11, 3.97 ERA and displayed excellent control. The Royals were high on Runelvys Hernandez, who missed '04 with an injury but won 11 games across 2002-03. D.J. Carrasco was being counted on to successfully transition from the bullpen to the rotation.
And Jose Lima was back in Kansas City. A 21-game winner for Houston in 1999, he was 8-3 for the surprisingly good Royals in 2003 before leaving for Los Angeles and going 13-5 for the Dodgers in '04. Free agency brought him back to the Royals.
But without results, expectations are just expectations, and the 2005 results fell astonishingly short. Greinke won only five times and his 17 losses led the American League; his ERA increased by almost two runs to 5.80. Lima was arguably worse–he matched Greinke's five wins, his 16 losses almost equaled his league-leading teammate's total and his ERA was 6.99.
Hernandez's eight wins were, disappointingly, the best of any Royal; he lost 14 and posted a 5.52 ERA. Carrasco's six victories were second only to Hernandez but he lost eight.
Mike MacDougal saved 21 games and his 3.33 ERA was second best among regular KC pitchers. (Andy Sisco posted a 3.11 in 67 relief appearances).
The KC Royals used 22 pitchers in all. They combined for a 5.56 ERA, the worst in baseball. Their 6.1 WAR ranked 29th; 24 teams issued fewer walks and 27 struck out more hitters.
Greinke took time away from the game for part of the next season, then returned full-time in 2007 and utlimately developed into one of the game's great pitchers, albeit primarily for other teams. Lima became a free agent after 2005; he signed with the Mets but pitched just four times for them in '06, his last major league season. Hernandez was 6-10 for the KC Royals in 2006 and pitched in '08 for the Astros before leaving the big leagues. Carrasco didn't pitch in the majors again until 2008 for the White Sox and finished his career with the Mets in 2012.
Pitching failed the Royals in 2005. But in the final analysis, losing 106 games required a team effort.
The 2005 KC Royals lost a franchise worst 106 games. Hopefully, it's a record that won't be broken.