All-time KC Royals starting lineup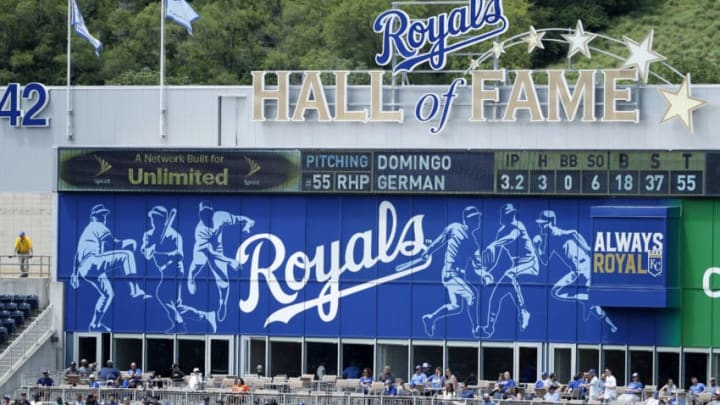 (Photo by Joe Robbins/Getty Images) /
KC Royals, Danny Tartabull /
With KC Royals hitters 4-6 you want to have players with pop in their bats plus the ability to drive in runs.
4.
One of the easiest decision was choosing the right fielder.  Unfortunately, the KC Royals were only able to have his services for five seasons but Danny Tartabull scores high on many statistical fronts.
His glove work was not a thing of beauty but he more than makes up for it with his bat.  As a member of the Royals, Tartabull cranked 124 bombs, 141 doubles and had a heck of an eye with a .376 OBP.  His .518 career team slugging percentage is number one, besting Sweeney by 26 points.
The best year was in 1991 when he made the All-Star team and finished 12th in MVP voting.  He clubbed 31 homers and led the majors with a .593 SLG.  His overall slash that year was .316/.397/.990 which was third best in a Kansas City season behind Brett in 1980 and 1985.
Tartabull went on to have decent seasons with the New York Yankees and Chicago White Sox but he never matched the stretch he had while in Kansas City.  A perfect clean up hitter to protect Brett.
5.
We went from the easiest choice to the most difficult.  After much debate, John Mayberry is selected to man first base over Eric Hosmer.
Hosmer did collect Gold Gloves while Mayberry did not, but looking at fielding percentage stats they both are at .994 when playing first base.  Mayberry was a better hitter from an OPS+ view by 21 points which gives him the nod in the lineup.
While with Kansas City, Mayberry hit over 20 home runs in five of six seasons and twice led the American League in walks.  He also led the AL in OBP (.417) in 1973 and OPS+ (168) in 1975.  He finished in the top 12 in MVP voting three times with the Royals and was named to two All-Star games.
Overall in 897 games played wearing the KC uniform, Mayberry produced a .261/.374/.448 slash.  He drove in over 100 runs on three occasions and his 34 homers in 1975 held as the team single-season record until Steve Balboni bested him by two in 1985.
With his ability to mash and get on base, Mayberry is the perfect guy to drive in runs and "keep the line moving" in the middle of the Royals lineup.
6.
Another close battle was for the catching position.  Darrell Porter was an on-base machine during his brief four years with the Royals reaching at a .375 clip.  He even led the majors in walks in 1979 and finished in the top-10 MVP voting twice.  On the other hand, he went to the St. Louis Cardinals right after Kansas City and that is unacceptable.
To manage a pitching staff and be a rock behind the plate, we will go with Salvador Perez.  He is miles behind Porter on reaching base but hits for roughly the same average, slugs a bit better and reached six straight All-Star games and won Gold Gloves in five of those six years.  Perez also has collected two Silver Slugger awards for catchers.
Perez led the AL in caught stealing percentage in 2012 with 42%, the majors in 2016 with a 48% rate and duplicated that number in 2018.  His defensive WAR is already higher than Porter's despite participating in nine less seasons to this point.
He can also provide pop in the sixth spot having clubbed more than 20 the last four seasons he has played (missed 2019 due to injury) and has been in double digits since 2012.  When it comes to pressure, Perez has slashed .348/.375/.478 in 12 World Series games.
There is the middle part of the order.  Plenty of ability to smash the ball and a sturdy presence for our pitching staff behind the dish.