KC Royals: A counter for the pessimism towards the future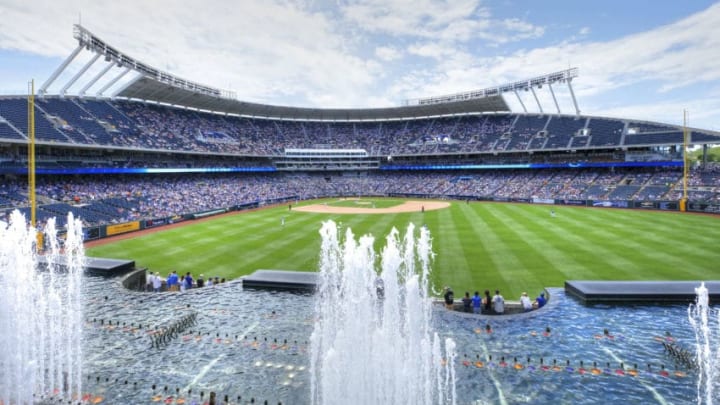 KC Royals (Photo by Joe Robbins/Getty Images) /
Photo by Brian Davidson/Getty Images /
Final thoughts
The way the KC Royals are currently constructed, they have a lot of promise. We can simply look at the numbers and deem this team to be awful. Losing 100+ games should bring some criticism with it, especially in back-to-back years. However, we also have to be realistic with what the Royals actually have going for themselves before we claim the team to never be in contention again for a long time.
They have pitching knocking on the door, both bullpen and rotation. With Brady Singer, Jackson Kowar, Daniel Lynch, Kris Bubic, Jonathan Bowlan all pushing for a chance to start. Then Tyler Zuber, Josh Staumont, Richard Lovelady, Austin Cox, Jake Newberry, and actually many more pitchers seemingly destined to make a jump to the big leagues in the bullpen. When you look at what they have done and can potentially do, that has to provide you with some juice.
Then you look at the potential players in the field. You've got Khalil Lee, Nick Heath, Kyle Isbel, Bobby Witt Jr., MJ Melendez, Erick Pena on different levels within the system, but all difference makers. This doesn't already include the havoc that Adalberto Mondesi, Nicky Lopez, and Whit Merrifield cause offensively and defensively, the power Jorge Soler has channeled, and the return of Salvador Perez.
Not to mention, the KC Royals have the Number 4 pick in the MLB Draft this year.
They could potentially get another front-of-the-line pitcher (Asa Lacy) or an overall difference-maker in Austin Martin, Spencer Torkelson, or Nick Gonzales, depending on how the draft plays out.
While the White Sox, Tigers, and Twins all seem to be close to peaking in potential, that shouldn't dictate whether or not the Royals make a push too. Contending for the playoffs doesn't mean they have to win the Central. With the potential new layout for the playoffs, that could benefit the Royals and other teams feeling like they are close to contending as well.
With the way the KC Royals are developing, they have a strong chance of being a solid all-around team for the next six years. The last three years of drafting has been pretty solid for the Royals, and a good chunk is developing on the same timeline.
So before we deem the KC Royals doomed for years to come, or that they don't have a chance at competing, let's be real with what they have coming in the near future. They have above-average pitching, above-average defense, above-average baserunning, and roughly average offense. Seems like we've heard this story before, don't you think?